Paint protection film installation gel provides easier installation and better final appearance
Clings well to vertical and horizontal surfaces
Enables longer handling times due to thicker floating barrier
Gel will stay wet longer, especially in hot climates
Thick consistency spreads out evenly beneath film
3M™ Paint Protection Film Installation Gel helps provide easier installation and better final appearance. Our gel may be used for virtually all 3M paint protection films. Installation technicians appreciate the low tack properties of our installation gel.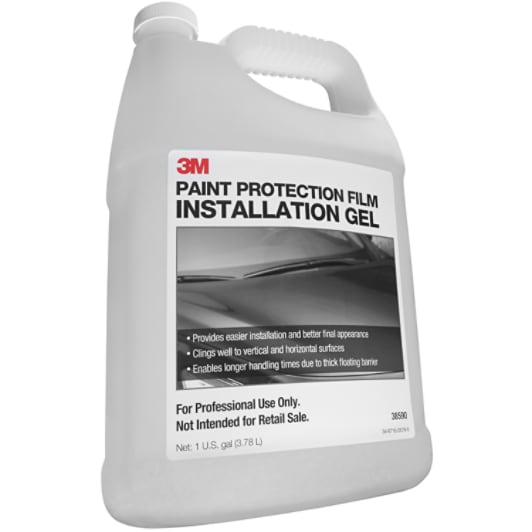 Formulated to ease the application process of Paint Protection Film (PPF) and ensure a quality application
Professional Quality Film Installation
To make work easier and results better, 3M™ Paint Protection Film Installation Gel helps installation technicians achieve professional quality results that produce highly satisfied customers. Our gel works as the slip foundation for film to be laid upon prior to installation. We formulated the gel to offer a good balance between the optimal amount of slip without premature tacking. This gel may be used with both Pro Series films and general 3M paint protection films.
Advantages of a High Viscosity Formula
Our gel offers numerous competitive advantages over typical water based solutions. For starters, it clings to surfaces better, including more challenging vertical surfaces. Better cling means there is less need to lift film from the application surface to re-wet, which boosts productivity in the shop by saving time. Automotive technicians tell us there is also less stress and better focus during film installation when there is less need to respray surfaces due to our thicker floating formula. Our gel is especially useful in high temperature environments where drying out is a common problem.
Pre-Mixed for User Convenience
Our gel comes ready to use without any need for mixing before application. Without a need to mix, auto technicians find they save time and get a consistent formula every time.