Helps ensure blemish-free finishing for all paintable surfaces
Light adhesive draws dust and other particles in and traps them in the cloth
Reduces adhesive transfer to the hands or gloves, helping ensure a clean work area
Leaves no drag marks on cleaned area
Silicone-free
Our 3M™ Tack Cloth is ideal for critical cleanup and removal of dust, lint and other particles from auto body surfaces before painting. This cloth features a very light adhesive that draws dust and sanding particles into it, yet it does not leave drag marks on the surface or adhesive on the hands.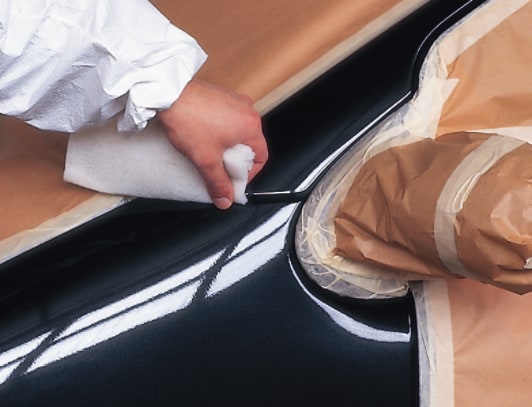 Smooth transition as dust is drawn into the tack pad leaving a drag-free surface
A Light Tack Where You Need it Most
It's valuable for any metal, plastic, fiberglass or wood surface requiring light cleanup, but this 3M™ Tack Cloth is simply ideal just before painting when even tiny dust or lint particles can spoil a nib-free surface. This reusable cloth features a very light adhesive that draws in and traps dirt, lint, dust and sanding particles. This adhesive is very clean — it stays in the cloth, leaving no drag marks or residue on the surface. Very little of it transfers to your hands or gloves. This helps ensure a clean, smooth surface that you can prime and paint without dust nibs or other particles that can ruin your paint job and cause rework.
The Science for Better Auto Repair from 3M
As a supplier of auto body products for decades, 3M puts science into the places you need it most. Our 3M™ Tack Cloth is a great example: a light abrasive removes tiny dust and sandpaper particles, but doesn't stay on the surface or on your hands. It's another way that 3M applies science to the life — and helps you get the most enjoyment and value from the vehicles you own.