6.9 gallon size maximizes internal volume with minimal external dimensions
Compact turbine delivers consistent power up to 137 CFM
Flat HEPA filter design keeps filter out of containment area for greater capacity
Tool-triggered auto start – suction can start automatically as the tool is switched on
Sys-Dock allows for storage and transport of Festool Systainers (sold separately)
Large wheels, low center of gravity greatly limit tipping and improve mobility
The Festool Mobile Dust Extractor CT 26 delivers maximum capacity vs. external space. It features tool-triggered auto start – the turbine cycles on and off as you operate the sanding tool. You control suction with an easily-turned dial. Large, stable wheels on bottom and the Sys-Dock feature on top allows for easy mobility throughout your shop.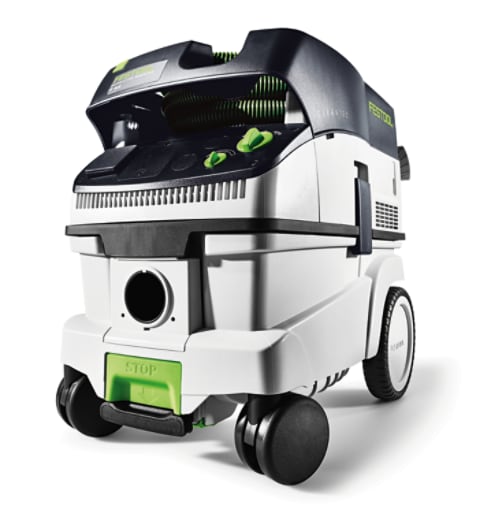 Festool CLEANTEC Mobile Dust Extractor CT 26 in 6.9 gallon size
Efficient Dust Extraction Anywhere
Designed for maximum internal volume vs. external space, the Festool Mobile Dust Extractor CT 26 combines features for operator efficiency, mobility and truly effective dust evacuation from vital work areas. The entire CT 26 unit measures just 24.8" x 14.4" x 21.5" (630 x 365 x 546 mm) and provides 6.9 gallons (26 liters) of dust collection volume. Its filter meets US HEPA requirements and is designed to snap quickly into the unit for fast installation and replacement. This filter is flat — unlike a conventional shop vacuum system, it does not extend into the dust containment area. This increases its effectiveness while also maximizing capacity.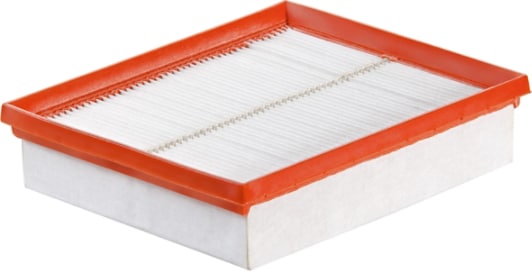 Main Filter for CLEANTEC Mobile Dust Extractor
About HEPA Filtration
Festool CLEANTEC Mobile Dust Extractors meet stringent HEPA requirements. High Efficiency Particulate Air, or HEPA, represents very high standards by which air filtration is measured and the most sophisticated, modern, and high-tech vacuum systems employ filters based on this standard. According to specifications in the United States, a filter must trap at least 99.97% of all particles that are 0.3 microns or larger in diameter. The filter must always retain a high level of airflow as not to reduce suction. The filters and the entire CLEANTEC Mobile Dust Extractor are both HEPA certified.
Added Efficiency
The Festool Mobile Dust Extractor CT 26 works with a range of Festool
hoses and power cords
, which allows for tool-triggered auto start. When the sanding tool is activated, the dust suction starts automatically. The operator does not need to start the dust extractor separately from the sanding tool, saving time and increasing efficiency. A large, easily operated dial on the machine face lets you adjust the suction control — you can maintain the optimal suction up to a full 137 CFM for every tool during every part of a job.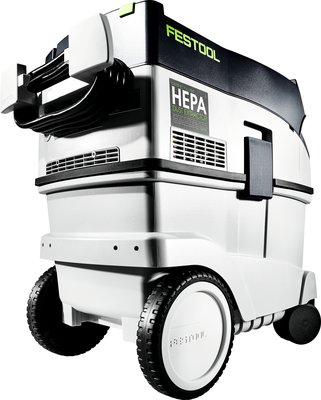 CLEANTEC Mobile Dust Extractors feature Sys-Dock, a flat base for attaching Festool Systainers and Sortainers
Ultimate Mobility in the Shop or at the Worksite
The dust extractor also features a very stable upright design. Large wheels on the bottom and a balanced center of gravity greatly limit the possibility of tipping, and of damage to the equipment or the shop. At the top, the Festool Mobile Dust Extractor CT 26 features Sys-Dock — a flat base which can be used to firmly attach Festool Systainers and
Sortainers
. This system allows you to store and transport machines and their related parts and accessories, as well as transport them easily across the shop or the site right along with the dust extractor.
The Festool Festool Mobile Dust Extractor CT 26 is supplied with an 11-1/2' 27 mm anti-static hose and a self-cleaning filter bag. Integrated Hose Garage and Cord Wrap features allow for neat, organized storage of the dust extractor and equipment when not in use.
Note: The Festool mobile dust extractor is not approved for use with aluminum dust.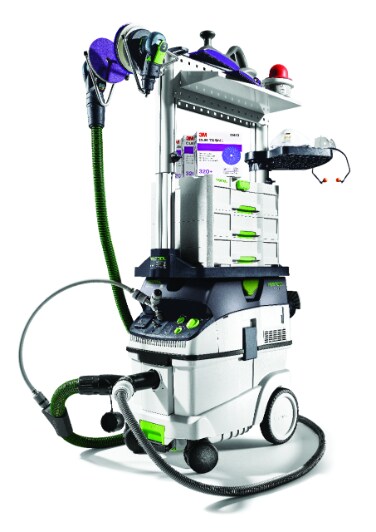 A Strategic Collaboration between 3M Automotive Aftermarket Division and Festool Automotive Systems
3M's Automotive Aftermarket Division spans the globe, serving the automotive collision repair industry through more than 70 subsidiaries. 3M AAD has deep industry knowledge and maintains extensive relationships with collision-repair professionals. In collaboration with Festool Automotive Systems, 3M will now offer its customers an even stronger value. 3M best-in-class abrasives innovation, including 3M™
Cubitron™ II Abrasives
, will now be offered in conjunction with premium Festool Automotive Systems surface prep tools, dust extraction capabilities and services, creating one of the most effective and comprehensive surface preparation and finishing systems in the automotive collision repair industry.
About Festool
For 90 years, Festool has been a manufacturer of premium power tools for the most demanding applications. With a well-earned reputation for innovation and quality, Festool makes power tools widely considered the best in the automotive repair marketplace, including pneumatic and electric sanders, polishers and backup pads, vacuums and surface-prep workstations. Beyond its existing products, Festool continues to develop a new line of connected "smart tools" to power the future of collision repair.
Learn more about Festool Automotive Systems
(PDF, 1.97 Mb)