The Festool Extraction Adapter is a simple device that can make a big difference for your Festool dust extraction system. This antistatic adapter is suitable for connecting Festool Lex 3 random orbital sanders, LRS orbital sanders, and IAS 3 hose assemblies to existing central vacuum systems. You can also reduce a 50 mm hose or accessory to a 36 mm, or connect from 36 mm to 27 mm to add reach.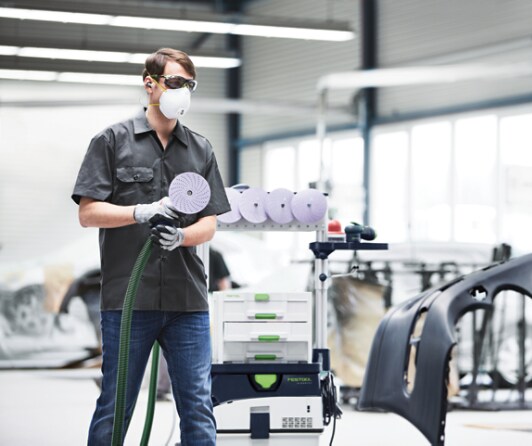 Connect IAS 3 hoses and to your central vacuum system and increase reach in your shop
The Right Connections for Higher Shop Productivity
Designed for increasing efficiency with the tools you have, the Festool Extraction Adapter lets you connecting a
Festool Lex 3 random orbital sander
,
Festool LRS orbital sander
and Festool IAS 3 hose assemblies to existing central vacuum systems. You can also use the adapter to lengthen your assemblies by connecting 50 mm Festool to 36 mm hoses or accessories, or connecting 36 mm to
27 mm
for greater flexibility. Here the adapter essentially functions as a hose reducer — you can use multiple shorter Festool hoses and accessories to quickly create longer hose assemblies. This is a great way to increase your working efficiency on jobs requiring effective dust evacuation and longer reach.
This Extraction Adapter is designed specifically for use with
Festool dust extractors
and IAS 3 hoses, sleeves and couplings. Antistatic properties of the adapter help prevent dust from accumulating on the adapter when used with this Festool dust extraction equipment.
A Strategic Collaboration between 3M Automotive Aftermarket Division and Festool Automotive Systems
3M's Automotive Aftermarket Division spans the globe, serving the automotive collision repair industry through more than 70 subsidiaries. 3M AAD has deep industry knowledge and maintains extensive relationships with collision-repair professionals. In collaboration with Festool Automotive Systems, 3M will now offer its customers an even stronger value. 3M best-in-class abrasives innovation, including
3M™ Cubitron™ II Abrasives
, will now be offered in conjunction with premium Festool Automotive Systems surface prep tools, dust extraction capabilities and services, creating one of the most effective and comprehensive surface preparation and finishing systems in the automotive collision repair industry.
About Festool
For 90 years, Festool has been a manufacturer of premium power tools for the most demanding applications. With a well-earned reputation for innovation and quality, Festool makes power tools widely considered the best in the automotive repair marketplace, including pneumatic and electric sanders, polishers and backup pads, vacuums and surface-prep workstations. Beyond its existing products, Festool continues to develop a new line of connected "smart tools" to power the future of collision repair.
Learn more about Festool Automotive Systems
(PDF, 1.8 Mb)