Increases load-bearing characteristics of cylindrical joints
High temperature resistance to 300°F (149°C)
Easy-to-dispense, one component formula
Prevents fretting and corrosion
Requires no mixing or additives
3M™ Scotch-Weld™ High Strength Retaining Compound RT38 is a green, single component, medium viscosity, thixotropic anaerobic retaining compound formulated for bonding cylindrical parts to give high strength bonds.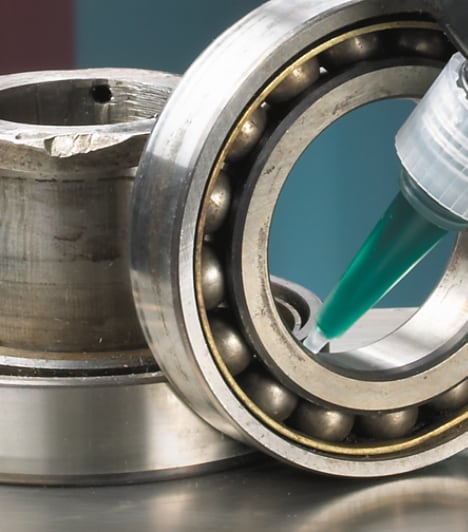 Easy-to-dispense, one component formula
Helps Keep Equipment Up and Running
We designed 3M™ Scotch-Weld™ High Strength Retaining Compound RT38 to augment the strength of slip fit assemblies and for use on loose-fitting or worn parts. The high strength formula requires no mixing or additives and takes the guesswork out of use. It is designed for service temperature applications up to 300°F (149°C) and helps prevent corrosion of assembled parts. 3M™ Scotch-Weld™ High Strength
Retaining Compound RT38
(PDF, 387.13 Kb) is suitable for higher strength retaining applications and is not recommended on most plastics as stress cracking may result.
Recommended Applications
Augment the strength of slip fit assemblies
To prevent loosening, corrosion and leakage of assembled parts caused by shock and vibration
3M™ Scotch-Weld™ Retaining Compounds
Our family of 3M™ Scotch-Weld™ Retaining Compounds are special adhesives designed to effectively secure brushings, bearings, cylindrical parts and gears onto housings or shafts. Our retaining compounds also help increase the reliability of the joint. These anaerobic adhesives cure within 24 hours to help make a strong, lasting, precision assembly. They help create uniform stress distribution and maximum load transmission capability.
Understanding Anaerobic Adhesives
Anaerobic adhesives are uniquely formulated to cure in the absence of oxygen. The term "anaerobic" means "living without air" and when the oxygen is excluded, a chemical chain reaction begins that causes the adhesive to polymerize. Contact with metal speeds the polymerization process and rapidly accelerates the curing process, forming tough cross-linked plastic that provides aggressive adhesion with effective shear strength.
More commonly referred to as threadlockers, pipe sealants, retaining compounds, and gasket makers, these adhesives are often used to enhance the seal, or holding force, in the threads of joined fastener systems such as nut-and-bolt assemblies. A nut-and-bolt assembly may have as little as 15% metal-to-metal contact and even a small amount of anaerobic adhesive readily fills any air voids between the threads and then hardens to a thermoset plastic. These unique adhesives are easy-to-dispense, cure rapidly, and provide effective torque strength while resisting temperature and vibration and sealing out moisture and gasses to protect against corrosion. Anaerobic adhesives can decrease manufacturing costs, enhance equipment reliability, minimize aftermarket breakdown, and reduce warranty claims.
Click here for more information on 3M Structural Adhesives.
(PDF, 15 Mb)