The Festool Toolcenter TC 3000/2 is a durable, safe gathering place for your tools and materials. It features a lockable storage cabinet, a dock for storing your Festool dust extractor, an upper storage area and rollers for mobility around your shop. This Toolcenter comes with a hose holder and easily accepts accessories including a 10-hook rear wall pegboard, double tool holder hooks and more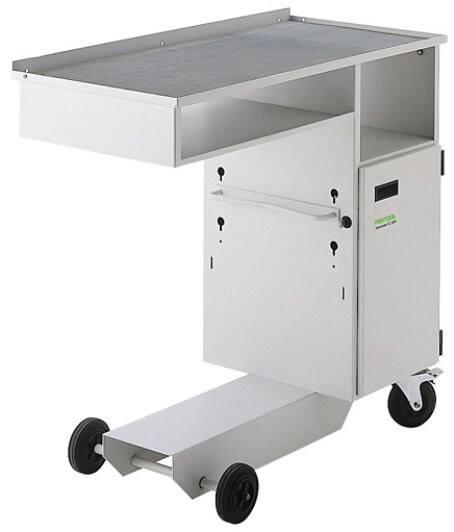 Lower dock is designed for attaching and storing Festool dust extractors
Another Mobile Idea in Workplace Organization and Storage
Designed as a mobile workplace, the Festool Toolcenter TC 3000/2 combines features for keeping tools and larger machines organized and easily at hand. The lower part of the Toolcenter features a dock with fastening clamp designed specifically for securely attaching and storing your Festool dust extractor. A lockable tool cabinet has an intermediate shelf. Two durable front rollers and a large rear steering roller make it easy and convenient to smoothly transport your tools, parts and equipment wherever you need them around your shop.
Customizable for You and Your Workplace
The Festool Toolcenter TC 3000/2 measures 18.5" x 42" x 38" (470 x 1070 x 960 mm) and delivers workable space of 18" x 39" (460 x 990 mm). It includes a hose holder to keep air and suction hoses conveniently positioned for easy reach, but out of your way, as well as a non-slip mat for the bottom of the cabinet. You can easily add accessories built for the Toolcenter TC 3000/2 including a rear wall — a large metal pegboard with 10 peg hooks that installs across the sanding station. You can also add hooks to hold two tools at a time.
A Strategic Collaboration between 3M Automotive Aftermarket Division and Festool Automotive Systems
3M's Automotive Aftermarket Division spans the globe, serving the automotive collision repair industry through more than 70 subsidiaries. 3M AAD has deep industry knowledge and maintains extensive relationships with collision-repair professionals. In collaboration with Festool Automotive Systems, 3M will now offer its customers an even stronger value. 3M best-in-class abrasives innovation, including
3M™ Cubitron™ II Abrasives
, will now be offered in conjunction with premium Festool Automotive Systems surface prep tools, dust extraction capabilities and services, creating one of the most effective and comprehensive surface preparation and finishing systems in the automotive collision repair industry.
About Festool
For 90 years, Festool has been a manufacturer of premium power tools for the most demanding applications. With a well-earned reputation for innovation and quality, Festool makes power tools widely considered the best in the automotive repair marketplace, including pneumatic and electric sanders, polishers and backup pads, vacuums and surface-prep workstations. Beyond its existing products, Festool continues to develop a new line of connected "smart tools" to power the future of collision repair.
Learn more about Festool Automotive Systems
(PDF, 1.8 Mb)