Compact and mobile – connects without tools to nearly any Festool mobile dust extractor
Adjustable height columns help keep equipment within easy reach, allow for Systainer storage
Grooved columns accept a range of hooks and holders
Metal pegboard and peg hooks allow for personalized configuration
Includes storage shelf, peg hooks, pivoting tray and two double hooks for hanging tools
Customize with additional hooks, trays and accessories
The Festool Workcenter WCR 1000 lets you keep your tools and your workplace arranged and organized for effective workflow. It consists of a versatile storage base, adjustable height metal pegboard and assorted adjustable trays and hooks to keep your tools and parts within reach, but not in your way. The Workcenter WCR 1000 connects to a range of Festool mobile dust extractors for easy mobility.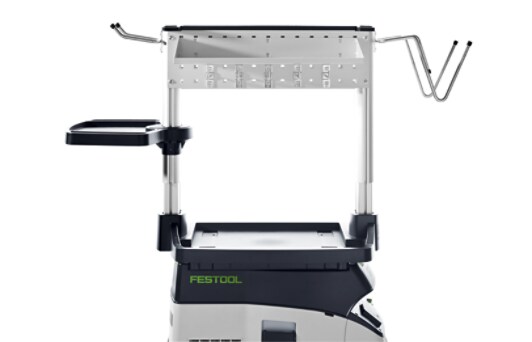 Enhances workplace efficiency by reducing time spent searching for tools and materials
Another Mobile Idea in Workplace Organization and Storage
Designed for organization as well as mobility, the Festool Workcenter WCR 1000 quickly becomes a natural place to store your 3M and Festool materials — and a great way to move it quickly and efficiently across the shop. At its heart is a durable, compact base that accommodates a range of Festool dust extraction equipment. Two columns easily adjust between 21 15/32" and 30 29/32" high, letting you keep your tools within the easiest reach. Raising the columns also creates a convenient place to stack multiple Festool Systainers between them, ideal for storing your 3M and Festool products. A metal pegboard on top accepts six metal peg hooks for hanging and storing a range of items, as well as a lightweight, durable storage shelf with built-in screwdriver holders (hooks, shelf and two shelf rails are included). Four built-in eyelets allow for hanging of cloths and bottles.
Customizable from Top to Bottom
Each column features a grooved profile that works with a quick, easy profile key fastener system to accept a range of hanging hardware. A large double hook (included) attaches into the column profile for onboard storage of power tools. An included pivoting storage tray is great for keeping and quickly accessing small tools and parts. Additional hooks and accessories can be added to columns or the pegboard for truly personalized organization.
Mobility in the Tightest of Spaces
The Workcenter WCR 1000 connects without tools to any Festool dust extractor. This makes it easy to move around the shop or the work site and set up compact, fully organized workplaces, for specific types of work, anywhere you need them — even in tight spaces.
A Strategic Collaboration between 3M Automotive Aftermarket Division and Festool Automotive Systems
3M's Automotive Aftermarket Division spans the globe, serving the automotive collision repair industry through more than 70 subsidiaries. 3M AAD has deep industry knowledge and maintains extensive relationships with collision-repair professionals. In collaboration with Festool Automotive Systems, 3M will now offer its customers an even stronger value. 3M best-in-class abrasives innovation, including
3M™ Cubitron™ II Abrasives
, will now be offered in conjunction with premium Festool Automotive Systems surface prep tools, dust extraction capabilities and services, creating one of the most effective and comprehensive surface preparation and finishing systems in the automotive collision repair industry.
About Festool
For 90 years, Festool has been a manufacturer of premium power tools for the most demanding applications. With a well-earned reputation for innovation and quality, Festool makes power tools widely considered the best in the automotive repair marketplace, including pneumatic and electric sanders, polishers and backup pads, vacuums and surface-prep workstations. Beyond its existing products, Festool continues to develop a new line of connected "smart tools" to power the future of collision repair.
Learn more about Festool Automotive Systems
(PDF, 1.8 Mb)