Developed specifically for tire labeling
Facestocks include polyester, polyethylene and vinyl for conformability and durability
Adhesives are formulated specifically for extreme bonding to treated rubber
Excellent for flexographic and thermal transfer printing
Liners make for efficient processing such as die cutting, matrix stripping and automated application
3M™ Tire Label Materials are designed specifically for tire labeling. Topcoated facestocks including flexible vinyl, polyester, polypropylene, polyethylene and polyolefin deliver a range of strength and conformability. Aggressive, permanent rubber-based 3M adhesives are formulated for performance on for use on rubber and similar materials, ideal for treated rubber tires.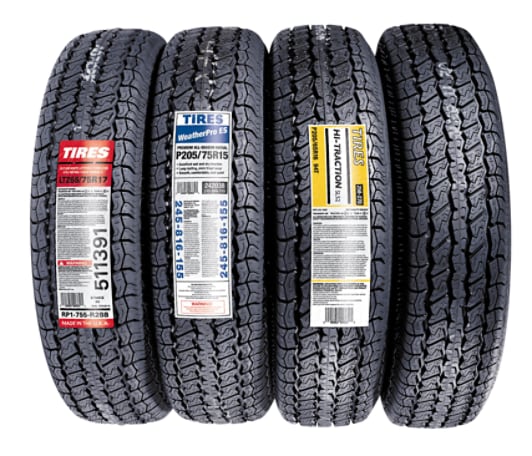 3M™ Performance Label Materials for Tires are specifically engineered to continue looking good and reading easy in the retail environment
Specifically Engineered for Retail Tire Label Applications
Developed specifically for use on rubber and similar surfaces,
3M™ Tire Label Materials are ideal for tires
(PDF, 2.23 Mb). Durable label facestocks include polyester, polypropylene and vinyl, providing excellent resistance to abrasion, chemicals and weathering. All facestocks are printable, and some allow for handwriting with ball point pen. Our 3M™ Adhesive G1120 and 3M™ Adhesive P1100 are permanent, rubber-based pressure-sensitive adhesives designed for performance on vented and non-vented tire treads. Supercalendered kraft liners are suitable for high-speed die cutting and matrix stripping, and are available remoistened processes including butt cutting, perforations and fan folding.
Recommended Applications
Tire tread labels
Retread tires
Waxy surfaces
All 3M™ Tire Label Materials are excellent for flexographic printing. Topcoated facestocks accept a variety of film inks and water-based flexo inks.
About 3M Adhesives for Tire Labels
3M™ Tire Label Materials feature specially-formulated adhesives
(PDF, 26.89 Mb) designed for specific, often challenging tire labeling applications. Adhesives include:
3M™ Adhesive G1120 is an extremely aggressive permanent rubber-based adhesive specially formulated for improved adhesion to heavily micro-vented and mold release treated tires. Ideal for use on rubber, waxy surfaces and concrete, it features excellent chemical and solvent resistance and holding strength at temperatures from 20°F to 140°F (-29°C to 60°C).
3M™ Permanent Rubber-based Adhesive P1110 is designed for labeling tires when used with tire wash. It is a general-purpose rubber-based adhesive that is excellent for use on rubber as well as textured plastics, UV-coated corrugated and metal such as aluminum.
Product
Face Material
Adhesive
Liner
Stain Resistance
Conformability
Shatter Resistance
Vented Tire Performance
Print Method
FPT36SM2-XX
3.2 mil
Tire Polyolefin
G1120 3.6
50# SC Remoist
Superior
Superior
Better
Better
TT/Flexo
FPT40KP2-XX
3.0 mil White
Polypropylene BC
G1120 4.0
50# SC Remoist
Better
Better
Better
Superior
TT/Flexo
FPT36PP2-XX
2.6 mil White
Polypropylene TC
G1120 3.6
50# SC Remoist
Good
Good
Better
Good
TT/Flexo
FPT36PE2-XX
3.2 mil Polyethylene
G1120 3.6
50# SC Remoist
Good
Superior
Better
Better
TT/Flexo
FPT36MM2-XX
1.0 mil Silver
Polyester TC
G1120 3.0
50# SC Remoist
Better
Good
Better
Good
TT/Flexo
NOTE: This technical information and data should be considered representative or typical only and should not be used for specification purpose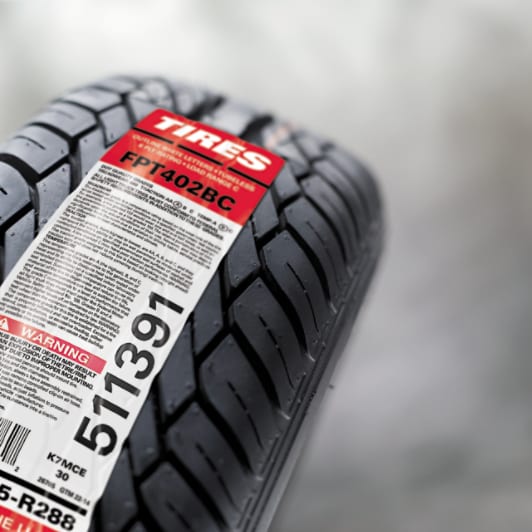 3M polymer barrier technology protects against discoloration and staining
Bringing Better Ideas to the Surface Through Science
3M is the premier durable label solution provider globally in the Industry today. 3M materials and services will enable you and your customers to present the best images, products, and quality as we solve marketplace solutions from design to production. We do this by partnering with industry leaders to deliver the best possible technology for innovative solutions regardless of your print method, substrates, and ink systems.