Promotes smooth application of single component sealants, urethanes and adhesives
Conical tapered nozzle makes for consistent beading
Threaded construction helps prevent snap-off for secure attachment to cartridges
Reusable for increased cost efficiency
Works with 3M™ single component cartridges
Our 3M™ Threaded Cartridge Nozzle is a key piece for applying 3M 1-part adhesives and seam sealers in collision repair. Its tapered design allows you to apply close bead shapes and heights to meet strength requirements or match OEM. The nozzle is designed for use with 3M single component cartridges and the 3M™ Single Component Cartridge Applicator Gun PN 08990.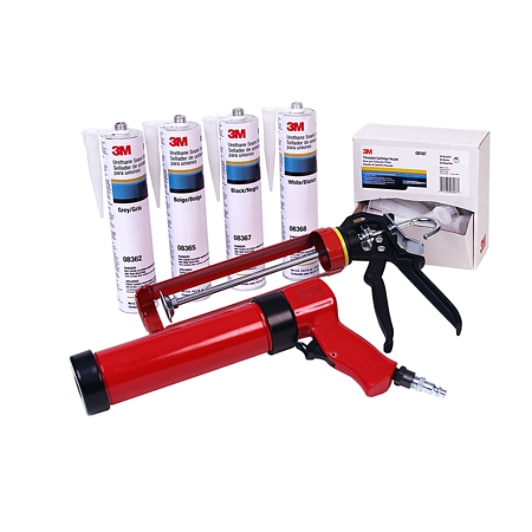 Seam sealers play an extremely important role in ensuring a quality repair
For Precise Application of 1-Part Sealers and Adhesives
When getting the job done right is critical for strength, sealing capability and appearance, our 3M™ Threaded Cartridge Nozzle is a simple yet very valuable component in collision repair. The nozzle is designed specifically to work with our 10.5 oz. (350 mL) single component cartridges and our Single Component Cartridge Applicator Gun PN 08990. Its wider end is threaded to twist quickly and tightly onto our seam sealer and adhesive cartridges. The tapered end allows technicians to apply precisely to meet the requirements of each job.
The nozzle is ideal for easily applying 1-part sealers and adhesives to match OEM beads or ensure consistent contact across seams. Lightweight and disposable, the nozzles can also be easily switched out and reused.
Better Science in Collision Repair from 3M
3M puts scientific discovery and development into our cartridge sealers and adhesives for the greatest value, the highest efficiency and your finest finished results in collision repair. This science extends to the way that these materials are applied: our 3M™ Threaded Cartridge Nozzle is a simple yet effective example of how 3M applies science to the lives of auto repair technicians.
See more about 3M Automotive Aftermarket Division Urethane Seam Sealers.
(PDF, 220.48 Kb)