Festool Real Wall TC 3000 RW helps technicians organize tools, accessories and supplies on their Toolcenter TC3000/2. This is an optional accessory that may be selected for use with the Toolcenter.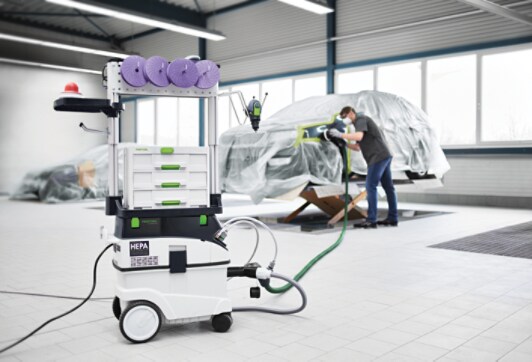 Organization system helps cleanup and enhances workplace efficiency
Designed for the Organized Shop
Organizing tools and supplies can boot productivity in the shop. That's why adding a Festool Rear Wall TC 3000 RW to a Toolcenter TC3000/2 can be a good idea. This accessory helps organizing shop tools and supplies so they are easier to find and within reach. It also helps keep them safe while in storage, as opposed to shifting in a drawer or box where damage is more likely to occur.
Makes Your Toolcenter More Versatile
The Festool Rear Wall TC 3000 RW expands the capacity of the Toolcenter by offering ten hooks for sanding supplies and tools. Sturdy metal construction makes it suitable for the rigors of the shop. The unit measures 40" x 13.4" (990 mm x 340 mm).
A Strategic Collaboration between 3M Automotive Aftermarket Division and Festool Automotive Systems
3M's Automotive Aftermarket Division spans the globe, serving the automotive collision repair industry through more than 70 subsidiaries. 3M AAD has deep industry knowledge and maintains extensive relationships with collision-repair professionals. In collaboration with Festool Automotive Systems, 3M will now offer its customers an even stronger value. 3M best-in-class abrasives innovation, including
3M™ Cubitron™ II Abrasives
, will now be offered in conjunction with premium Festool Automotive Systems surface prep tools, dust extraction capabilities and services, creating one of the most effective and comprehensive surface preparation and finishing systems in the automotive collision repair industry.
About Festool
For 90 years, Festool has been a manufacturer of premium power tools for the most demanding applications. With a well-earned reputation for innovation and quality, Festool makes power tools widely considered the best in the automotive repair marketplace, including pneumatic and electric sanders, polishers and backup pads, vacuums and surface-prep workstations. Beyond its existing products, Festool continues to develop a new line of connected "smart tools" to power the future of collision repair.
Learn more about Festool Automotive Systems
(PDF, 1.8 Mb)