Festool Self Cleaning Filter Bags prevents fine dust particles from clinging to the side of the bag, which reduces dust extraction efficiency. Bags are available for both the CLEANTEC 26 and CLEANTEC 36 systems.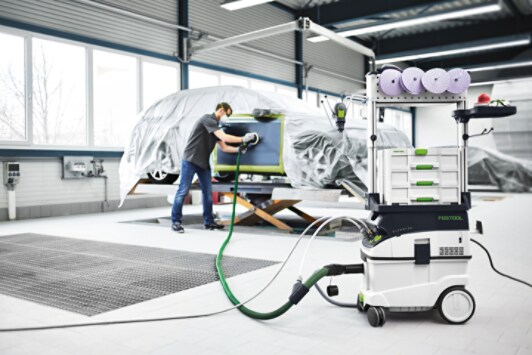 This bag is designed to work with both the CLEANTEC 26 and CLEANTEC 36 models
Prevent Caking Inside the Filter Bag
To eliminate dust accumulation and caking inside the bag, the Festool Self Cleaning Filter Bags solves a problem that has adversely impacted dust extraction systems and vacuums for years. During normal use, fine particles of dust cling to the inner lining of the filter bag resulting in caking. This coating of dust lowers the effective suction power dramatically, resulting in poor extraction efficiency and performance. Caking can also cause additional strain on your dust extractor's motor and contribute to premature failure.
Make Full Use of Every Bag
Festool has developed a unique pliable fleece filter bag. Because the bag is not rigid like many others, such as paper bags, it prevents caking. This means that your Festool CT Dust Extractor continues to deliver full suction until the bag is completely full. Many other filter bags do not counter this caking effect and suction is reduced dramatically throughout the use of the bag, often resulting in diminished suction before the bag is completely full. When this occurs, you're paying for a partially empty bag.
Better Dust Control
The Festool filter bag also serves as a pre-filter and is able to trap dust particles down to five millionths of a meter, or 5 microns. This is about the same size as a red blood cell. By arresting these small particles, in addition to larger chips, the bag extends the life of your main HEPA filter, reducing wear and tear as well as the expense of frequent filter replacement.
Mess-Free Disposal
Bag disposal is quick and mess-free. An integrated closure on the bag shuts the opening to prevent spilling. The material is made to be tear resistant and prevent bag blow outs which can be messy to clean up.
A Strategic Collaboration between 3M Automotive Aftermarket Division and Festool Automotive Systems
3M's Automotive Aftermarket Division spans the globe, serving the automotive collision repair industry through more than 70 subsidiaries. 3M AAD has deep industry knowledge and maintains extensive relationships with collision-repair professionals. In collaboration with Festool Automotive Systems, 3M will now offer its customers an even stronger value. 3M best-in-class abrasives innovation, including
3M™ Cubitron™ II Abrasives
, will now be offered in conjunction with premium Festool Automotive Systems surface prep tools, dust extraction capabilities and services, creating one of the most effective and comprehensive surface preparation and finishing systems in the automotive collision repair industry.
About Festool
For 90 years, Festool has been a manufacturer of premium power tools for the most demanding applications. With a well-earned reputation for innovation and quality, Festool makes power tools widely considered the best in the automotive repair marketplace, including pneumatic and electric sanders, polishers and backup pads, vacuums and surface-prep workstations. Beyond its existing products, Festool continues to develop a new line of connected "smart tools" to power the future of collision repair.
Learn more about Festool Automotive Systems
(PDF, 1.8 Mb)