The Festool Rotary Polishers SHINEX RAP 150 combines a two-speed geared motor and trigger-controlled speeds from 600 - 1,400 RPM (RAP 150-14) and 900 - 2,100 (RAP 150-21) for versatility across a range of polishing surfaces. Speeds can also be easily preset. At just 4.6 lbs. (2.1 kg), it features a removable, adjustable handle and balanced ergonomic design for ideal power transfer.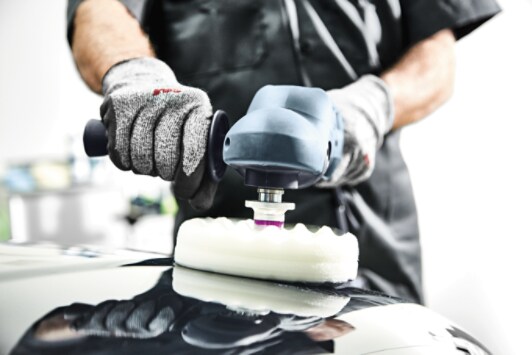 Features two removable, adjustable handles
Versatile at Every Speed
With a two-speed geared motor and trigger-activated speed control, the Festool Rotary Polishers SHINEX RAP 150 is just the polisher you need — for an entire range of polishing jobs. This sleek, lightweight (4.6 lbs., 2.1 kg) rotary polisher features an ergonomic design that makes it comfortable to hold and to use even for long periods. Its design affords minimal distance between the tool and the pad, and either of two removable, adjustable side handles help ensure the best angle for individual operators and the ideal transfer of power into your polishing work.
This highly balanced polisher operates at 10 amps of power. Electronically controlled smooth start-up ensures the polisher starts without jolting. The RAP 150-14 operates from 600 to 1,400 RPM and the RAP 150-21 operates from 900 RPM to 2,100 RPM. You control the speed at the trigger — light pressure keeps the pad rotating at lower speeds, heavier pressure increases RPM at any time to suit your work. To maintain a single speed, engage the easy-to-reach locking button. Or, you can preset the speed for initial application of material, polishing sensitive surfaces or high gloss polishing using the adjusting wheel. Electronic controls ensure the polisher operates at consistent speed even under differing loads.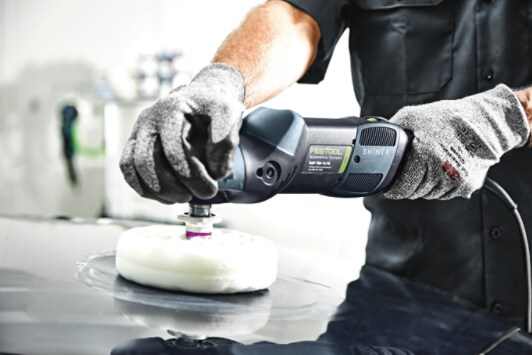 SHINEX RAP 150 is comfortable to hold and use even for long periods
Safety and Efficiency Built In
The SHINEX RAP 150 also features internal protections to the tool itself for long life. The power supply and speed are capped by a temperature-dependent overload protection system that reduces power when the tool becomes too hot; a ventilator rapidly cools the motor, and full power returns once it returns to normal temperature range. A current limiting system also decreases motor speed in the event the pad encounters too much load pressure, and resumes normal speed once the load is removed.
Recommended Applications:
Horizontal and vertical surfaces
Awkward or curved spots requiring high coverage capacity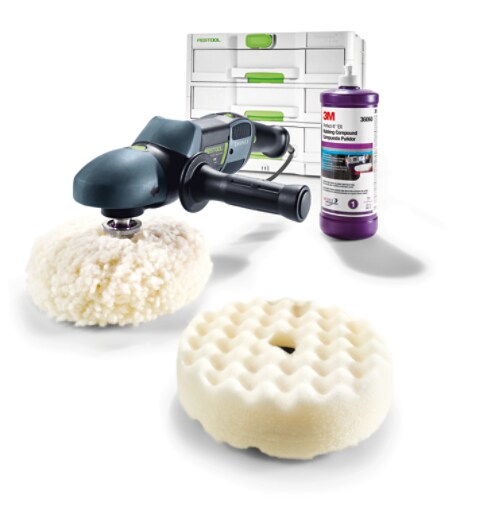 A Strategic Collaboration between 3M Automotive Aftermarket Division and Festool Automotive Systems
3M's Automotive Aftermarket Division spans the globe, serving the automotive collision repair industry through more than 70 subsidiaries. 3M AAD has deep industry knowledge and maintains extensive relationships with collision-repair professionals. In collaboration with Festool Automotive Systems, 3M will now offer its customers an even stronger value. 3M best-in-class abrasives innovation, including
3M™ Cubitron™ II Abrasives
, will now be offered in conjunction with premium Festool Automotive Systems surface prep tools, dust extraction capabilities and services, creating one of the most effective and comprehensive surface preparation and finishing systems in the automotive collision repair industry.
About Festool
For 90 years, Festool has been a manufacturer of premium power tools for the most demanding applications. With a well-earned reputation for innovation and quality, Festool makes power tools widely considered the best in the automotive repair marketplace, including pneumatic and electric sanders, polishers and backup pads, vacuums and surface-prep workstations. Beyond its existing products, Festool continues to develop a new line of connected "smart tools" to power the future of collision repair.
Learn more about Festool Automotive Systems
(PDF, 1.8 Mb)