The Festool Random Orbit Sanders ETS EC 150/3 is built for easy sanding with one hand, a combination of compact size and ergonomic comfort. It weighs just 2.6 lbs. (1.2 kg), with a low profile design that fits right into your hand. A 400W brushless motor delivers consistent power, and a built-in vibration control system slows it down when needed. The pad brake is carbide-tipped for long life.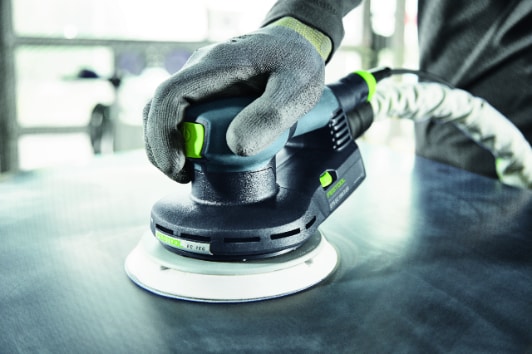 A 3 mm stroke rate is excellent for finer sanding work
A Series of Features for Fast, Effective Sanding
At the heart of the Festool Random Orbit Sanders ETS EC 150/3 is a 400-watt brushless motor, which delivers consistent power at speeds from 6,000 to 10,000 RPM. This motor requires lower power consumption and generates less heat vs. brushed motors, so it doesn't require added venting and won't accumulate as much dust inside the machine. Festool soft,
connect to the sander quickly
with one bolt (connecting tool is included).
Protection Built In
The sander connects quickly and easily to Festool
dust extraction systems
, and arrives set to automatically switch off when the suction hose is disconnected from the sander. A series of audible beeps and a built-in LED indicator lets the operator know quickly that the machine is set for dust evacuation. This feature can be disabled if necessary using the power button. The sanding pad brake controls pad revolution during no-load states, and saves time by allowing the operator to set the sander down more quickly after use. The pad brake on the Festool Random Orbit Sanders ETS EC 150/3 is carbide-tipped, greatly reducing wear.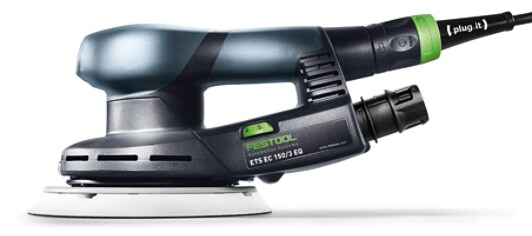 Recommended Applications (ETS EC 150/3):
Pre-sanding for polishing
Final sanding of fillers
For fine sanding
The Festool Random Orbit Sanders ETS EC 150/3 is supplied with a FUSION-TEC sanding pad, an accessory tool kit and plug-it cable in a Systainer SYS 3T-LOC.
A Strategic Collaboration between 3M Automotive Aftermarket Division and Festool Automotive Systems
3M's Automotive Aftermarket Division spans the globe, serving the automotive collision repair industry through more than 70 subsidiaries. 3M AAD has deep industry knowledge and maintains extensive relationships with collision-repair professionals. In collaboration with Festool Automotive Systems, 3M will now offer its customers an even stronger value. 3M best-in-class abrasives innovation, including
3M™ Cubitron™ II Abrasives
, will now be offered in conjunction with premium Festool Automotive Systems surface prep tools, dust extraction capabilities and services, creating one of the most effective and comprehensive surface preparation and finishing systems in the automotive collision repair industry.
About Festool
For 90 years, Festool has been a manufacturer of premium power tools for the most demanding applications. With a well-earned reputation for innovation and quality, Festool makes power tools widely considered the best in the automotive repair marketplace, including pneumatic and electric sanders, polishers and backup pads, vacuums and surface-prep workstations. Beyond its existing products, Festool continues to develop a new line of connected "smart tools" to power the future of collision repair.
Learn more about Festool Automotive Systems
(PDF, 1.97 Mb)