Versatile dual-mode operation – no need to switch tools for rotary and random orbital sanding
Nearly 1 HP, 720W motor delivers plenty of power
FastFix system allows for quick pad changes without tools
Jetstream technology directs dust to edges for longer abrasive life
Connects quickly to Festool dust extraction systems
Festool Geared Eccentric Sander RO 150 switches from rotary to random orbital sanding quickly with one button, letting you sand from rough to polished with one tool. This powerful, compact sander features ROTEX rotary motion up to 660 RPM and eccentric speed up to 6,800 RPM. FastFix pads feature Jetstream technology to keep dust off of abrasives. It connects to any Festool dust extraction system.

One Sander, Multiple Sanding Possibilities
Featuring convenient dual mode operation, the Festool Geared Eccentric Sander RO 150 lets you perform paint stripping and featheredge sanding without ever changing tools. This compact 6" (150 mm) sander is ergonomically designed at critical grip positions. With the touch of a single button, you can switch the Festool Geared Eccentric Sander RO 150 from rotary sanding to random orbital sanding — true flexibility in a power hand sander. A 720-watt motor cranks out nearly one full horsepower. A convenient wheel control lets you easily regulate the speed from 3,300 and 6,800 RPM in random orbital mode and from 320 to 660 RPM in rotary.
The sander uses
FastFix sanding pads
featuring Jetstream technology, where air blown through central passages continually distributes dust and particulates toward pad edges to extend abrasive life. The hook and loop system allows you to quickly remove one abrasive and apply another without changing tools, and also helps ensure speed and flexibility through every stage of the work.
Protection Built In
The Festool Geared Eccentric Sander RO 150 includes a Festool Protector, which fits around the pad. This tough metal part protects the pad edges, the abrasive and the work surface from impact and prevents the machine from jolting or rebounding against objects perpendicular to the sanding surface. A rubber sanding pad brake saves time, as operators can set the sander down quickly after power is disengaged. The sander accepts any removable, interchangeable Festool power cord, and also fits quickly and easily to Festool dust extraction equipment.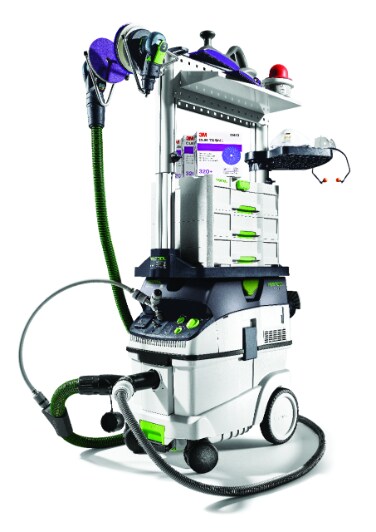 Festool Geared Eccentric Sander connects to IAS 3 Festool dust extraction equipment
A Strategic Collaboration between 3M Automotive Aftermarket Division and Festool Automotive Systems
3M's Automotive Aftermarket Division spans the globe, serving the automotive collision repair industry through more than 70 subsidiaries. 3M AAD has deep industry knowledge and maintains extensive relationships with collision-repair professionals. In collaboration with Festool Automotive Systems, 3M will now offer its customers an even stronger value. 3M best-in-class abrasives innovation, including
3M™ Cubitron™ II Abrasives
, will now be offered in conjunction with premium Festool Automotive Systems surface prep tools, dust extraction capabilities and services, creating one of the most effective and comprehensive surface preparation and finishing systems in the automotive collision repair industry.
About Festool
For 90 years, Festool has been a manufacturer of premium power tools for the most demanding applications. With a well-earned reputation for innovation and quality, Festool makes power tools widely considered the best in the automotive repair marketplace, including pneumatic and electric sanders, polishers and backup pads, vacuums and surface-prep workstations. Beyond its existing products, Festool continues to develop a new line of connected "smart tools" to power the future of collision repair.
Learn more about Festool Automotive Systems
(PDF, 1.8 Mb)