A durable compressed air sander designed for flat surfaces
4 mm stroke provides balance of coverage and smooth sanding
Vibration stop balanced for very low operator fatigue
Accepts hook and loop abrasives for fast changeouts
Connects quickly to Festool dust extraction systems
The Festool Compressed Air Orbital Sander LRS 93 is a durable tool designed specifically for sanding flat surfaces. It weighs just 3 lbs. (1.4 kg), and operates at up to 7,000 RPM; built-in vibration stop balancing makes for less operator fatigue. Variable speed adds flexibility. The sander accepts hook and loop abrasives, and fast, easy onboard clamping accommodates clamp-on abrasives.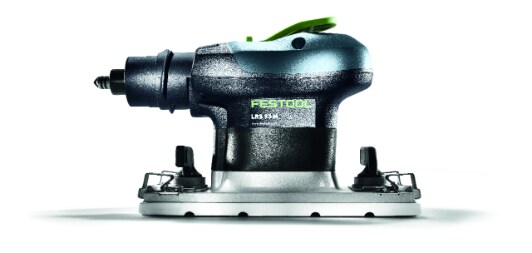 Festool Compressed Air Orbital Sander LRS 93 accepts hook and loop and clamp-on abrasives
Built and Balanced for Flat Surfaces
With a 4 mm stroke for intermediate sanding, the Festool Compressed Air Orbital Sander LRS 93 is a lightweight, very durable sander that connects to Festool equipment. It weighs just a little over 3 lbs. (1.4 kg), and features a robust compressed air vaned motor that delivers up to 7,000 RPM at 87 PSI (6 bar). The unit is designed so the operator can easily keep the abrasive flat and evenly applied against the surface, and are precisely vibration stop balanced for long shifts with less fatigue. The trigger and the speed control dial are both within easy reach at all times. A 4 mm stroke provides more coverage vs. a detail sander, but delivers a fine finish.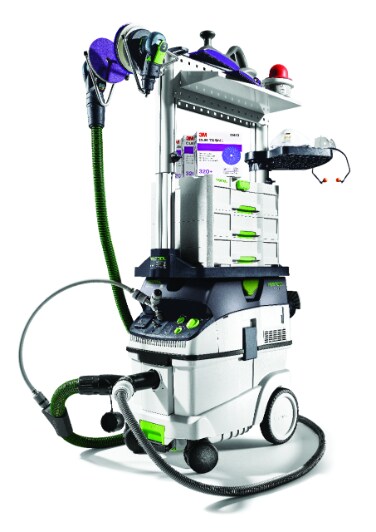 Festool Compressed Air Orbital Sander LRS 93 connects to IAS 3 Festool dust extraction equipment
Part of a Complete Festool System
The Festool Compressed Air Orbital Sander LRS 93 sander connects quickly and easily to Festool dust extraction equipment with IAS 3 connecting interfaces. It also accepts hook and loop
sanding pads
and abrasives. Onboard front and rear clamp levers make it fast and easy to use clamp-on abrasives for total flexibility.
A Strategic Collaboration between 3M Automotive Aftermarket Division and Festool Automotive Systems
3M's Automotive Aftermarket Division spans the globe, serving the automotive collision repair industry through more than 70 subsidiaries. 3M AAD has deep industry knowledge and maintains extensive relationships with collision-repair professionals. In collaboration with Festool Automotive Systems, 3M will now offer its customers an even stronger value. 3M best-in-class abrasives innovation, including
3M™ Cubitron™ II Abrasives
, will now be offered in conjunction with premium Festool Automotive Systems surface prep tools, dust extraction capabilities and services, creating one of the most effective and comprehensive surface preparation and finishing systems in the automotive collision repair industry.
About Festool
For 90 years, Festool has been a manufacturer of premium power tools for the most demanding applications. With a well-earned reputation for innovation and quality, Festool makes power tools widely considered the best in the automotive repair marketplace, including pneumatic and electric sanders, polishers and backup pads, vacuums and surface-prep workstations. Beyond its existing products, Festool continues to develop a new line of connected "smart tools" to power the future of collision repair.
Learn more about Festool Automotive Systems
(PDF, 1.8 Mb)