Scotch-Brite™ Roloc™ Rapid Cut Unitized Wheels combine Scotch-Brite non-woven technology with 3M's proprietary ceramic Precision Shaped Grain. Now you can get everything you love about Scotch-Brite abrasives – including a consistent finish and ease of use – with an extremely fast cut-rate. These wheels make tough jobs like weld blending and heavy deburring quick and easy.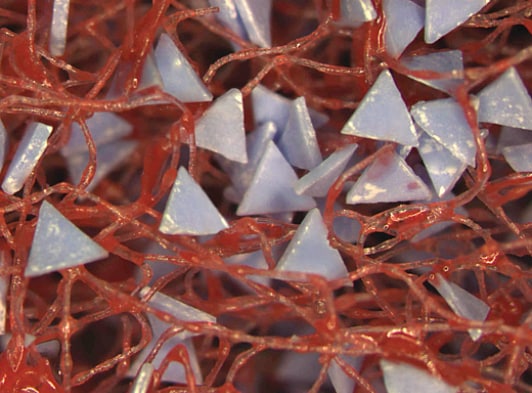 Exceptional Performance from 3M™ Precision Shaped Grain Technology
The Scotch-Brite™ Roloc™ Rapid Cut Unitized Wheel utilizes 3M™ Precision Shaped Grain (PSG) technology for exceptional cut rate and durability in heavy deburring and blending operations. Precision Shaped Grain continually fractures into super-sharp points and edges that slice cleanly through metal like a knife, rather than plowing as traditional abrasives do, ensuring extended high performance in heavy-duty applications.
Single Step Deburring and Finishing
PSG fully coats the fibers of our Scotch-Brite™ Rapid Cut Wheels to provide you with the highest level of productivity. These wheels deburr and smooth the edges of all types of metal at top speed, even where heat sensitivity is an issue. The unitized, high-density construction of non-woven fibers allows our toughest and hardest-working abrasive to work where you need it to while producing a consistent finish from one part to the next. As a result, our wheels significantly reduce re-work from deep scratches.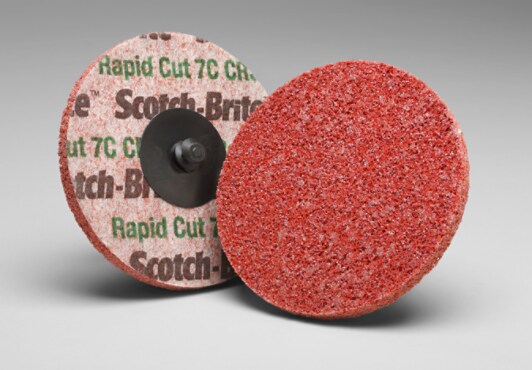 The Convenience of 3M™ Roloc™
For added productivity, our wheels feature a Roloc threaded attachment that provides easy changeouts between steps on portable tools. The Roloc system allows for the use of both the edge and surface of the wheel without interruption of mounting hardware. 3M™ Roloc™ TR quick change discs are smaller discs that have a plastic threaded button or screw designed to easily and quickly screw onto a
Roloc™ TR disc pad
(sold separately) so that operators can conveniently change discs with a simple twist-off, twist-on motion. The Roloc TR system provides a secure attachment even for heavy-duty applications, and the variety of available 3M Roloc discs allows swapping from one application to the next in seconds.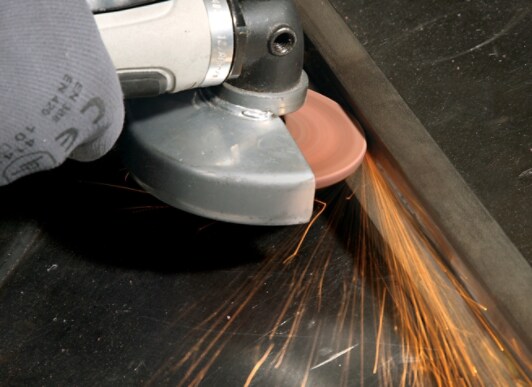 The Scotch-Brite™ Advantage
Non-woven Scotch-Brite™ abrasives are unique products engineered with non-woven fibers that are coated with abrasive mineral. Combining abrasives with the fibers creates an abrasive system that offers increased durability and delivers consistent results over the life of the product. These products are equally well-suited for cleaning, blending, deburring, finishing and polishing.