Aggressive, heavy duty wheel for extra tough blending and finishing applications
Resin bond helps with heat and smear resistance
Non-woven nylon fibers respond to surface imperfections, minimizing gouging
Aluminum oxide mineral cuts sharp while producing a fine finish
Available in a variety of grades
The Scotch-Brite™ CPM Wheel, a convolute wheel, includes all the benefits industrial professionals have come to expect from Scotch-Brite™ abrasives; the open web technology helps with load resistance and consistent cutting action. What sets this wheel apart is its level of aggressiveness. It's uniquely designed for heavy-duty blending and finishing.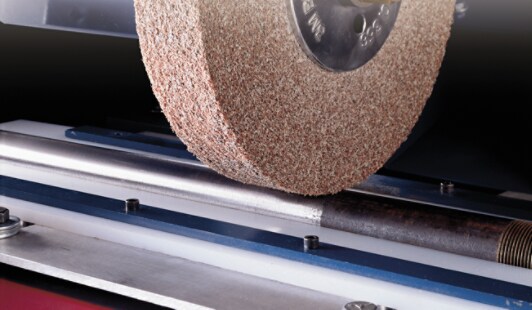 Convolute wheels are typically bigger and used on stationary equipment
Aggressively Blend and Finish
Among Scotch-Brite™ convolute wheels, the Scotch-Brite™ CPM Wheel is one of the most aggressive convolute wheels. It is engineered for tough blending and finishing applications on a variety of metals: think defect and coating removal. We craft the CPM Wheel by wrapping abrasive nonwoven web around a composite core. Moreover, the wheels are directional, which is indicated by an arrow on the side of the wheel. Following the direction indicated is essential for optimal wheel performance and operator safety.
Key Ingredients: Aluminum Oxide, Resin and Nylon
The abrasive material on the CPM Wheel combines non-woven nylon fibers and aluminum oxide mineral using a resin bond. Why aluminum oxide? Aluminum oxide is a popular choice among industrial professionals because of its fast cut-rate and long life. This mineral is known for its toughness and durability, whereas traditional natural abrasives dull more quickly. Aluminum oxide is suitable for a wide variety of materials in both woodworking and metalworking, including ferrous alloys. It cuts aggressively without significantly altering part geometry.
The non-woven nylon fibers enhance the abrasive's sensitivity to the substrate. The fibers are spongy, springy and respond well to surface imperfections, which, again, helps minimize gouging and marring. Gaps in the fibers allow dust and debris to escape, so the mineral does not get clogged or begin to wear prematurely. Fibers break down over time to reveal fresh mineral. Together, this system of load resistance and mineral renewal leads to a sharp-cutting abrasive that delivers consistent results, part after part.
Mineral Performance Comparison