Scotch-Brite™ Finishing Flap Brush Steel Core requires no chemical compounds to achieve fine finishes and is ideal for all aesthetic metal finishing applications, smoothing wood fibers, defuzzing wood, plastic and composite surfaces and sealer scuffing.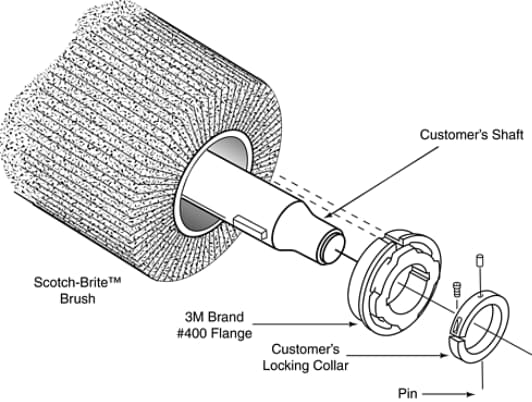 Flap Brush Construction
Scotch-Brite™ Finishing Flap Brush Steel Core is constructed from sections of non-woven material slit lengthwise and bonded to a cylindrical core. Our long-lasting brush provides improved consistency and greater control over a number of critical prep and finishing tasks, including polishing and aesthetic finishing, and brushed metal finishes on copper, brass, stainless steel, aluminum and other metals. As the brush spins, the flaps rotate centrifugally to cover more surface area. They minimize the risk of chatter, because the flaps overlap areas as they cut, reducing the residual lines and traces that may be left by abrasive discs ganged on a shaft. The steel core helps to provide a firm foundation and prevents it from yielding or deflection on the workpiece when run.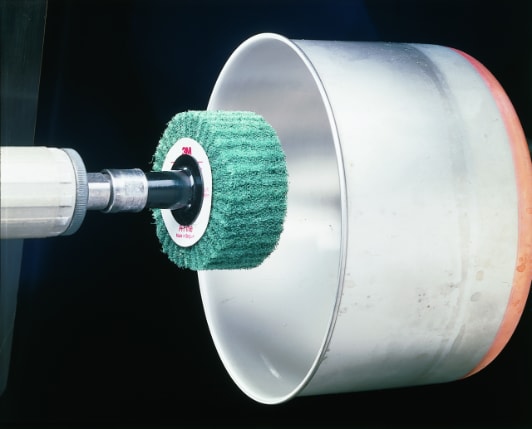 Ideal for setting a grain on aesthetic finishes
Available in a Variety of Grades and Minerals
This brush is available in a variety of grades and minerals, which means operators have the ability to choose the right combination for their unique project. Minerals include aluminum oxide, silicon carbide and talc. Grades include very fine (VFN), ultra fine (ULF), fine (FIN), medium (MED) and coarse (CRS). Aluminum oxide is soft and versatile; it tends to be used on surfaces where smooth, soft finishes are desirable. Talc, likewise, is a very soft mineral providing minimal abrasive qualities for ultra fine finishing and polishing. Silicon carbide is sharper and harder, making it a good match for projects that require an aggressive cut or a different aesthetic look.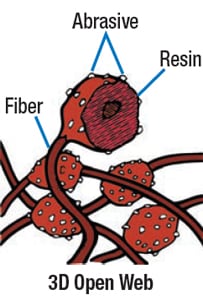 The Many Benefits of Open Web Abrasives
Non-woven technology makes our Scotch-Brite™ industrial abrasives unique. A combination of fiber strands, resin, and abrasive mineral forms a thick, open web. The spring-like nature of the fibers responds to contours and effectively removes unwanted burrs, soils, and contaminants while maintaining the geometry of the workpiece, which in turn reduces rework and boosts productivity.
Gaps in the web allow swarf to escape, so debris does not clog the mineral. Fibers in the web continually break down with use to reveal fresh mineral for exceptional consistency, superior cut performance, and extremely long service life. Scotch-Brite products not only enhance productivity, but also increase operator safety by reducing the need for cleaning chemicals and pastes, and replacing wire brushes that can break off and cause injury. From aesthetic finishing to weld blending, deburring, and more, Scotch-Brite™ abrasives work fast and deliver consistent results, part after part.