Spray-on coating for under the paint protection of auto bodies
Resists chips and abrasion on rocker panels
Medium to coarse texture matches OEM standards
Eliminates cleanup steps common to traditional application methods
Newly applied coatings are paintable in as few as 30 minutes
3M™ No Cleanup Rocker Gard™ Coating keeps lower body panels on vehicles looking newer longer by adding a layer of protection against chips and abrasion caused by stones or gravel. We recommend using this spray-on coating to match OEM texture standards. It is excellent for use with the 3M™ No Cleanup Applicator Gun and Replacement Nozzles.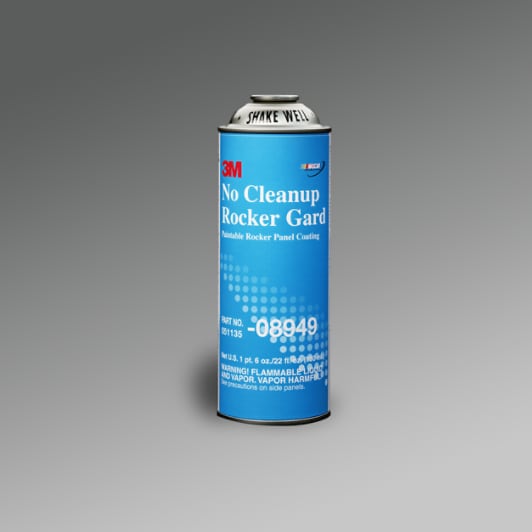 This system eliminates spray gun clean up
Protect Your Car's Rocker Panels
3M™ No Cleanup Rocker Gard™ Coating provides resistance to stones and gravel that may otherwise chip the rocker panel or lower sections of a vehicle. Panels on the lower side of a vehicle are commonly exposed to the punishing treatment of rocks and sand that can be kicked up by the tires or thrown from other vehicles. Spraying on our 3M™ No Cleanup Rocker Gard™ Coating adds a protective layer that resists chips and abrasion, protecting the panels of cars, trucks and vans. It also restores OEM appearance on repaired parts after a collision.
Easy Cleanup and Convenience
Our protective coating cures to a neutral tan color and is compatible with topcoats or sealer products. Fast curing allows for painting in as few as 30 minutes, saving you time and boosting productivity in an automotive shop.
3M™ No Cleanup Rocker Gard™ Coating is designed for use with our no-cleanup dispenser system, which includes a 3M™ No Cleanup Replacement Nozzles and the 3M™ No Cleanup Applicator Gun. The nozzle snaps quickly into the can, and fits directly onto the siphon-feed applicator gun. You can vary texture from medium to coarse by adjusting the air pressure to the gun. When you're finished, simply dispose of the nozzle – that's all the cleanup that's required.