3M™ Trizact™ PSA Film Sheet 568XA has all the benefits industrial professionals have come to expect from Trizact™ abrasives, including consistent and sharp cutting action. What makes this abrasive unique is the naturally-occurring mineral that's used: cerium oxide. It helps with glass defect repair and acrylic solid surface finishing by minimizing gouging.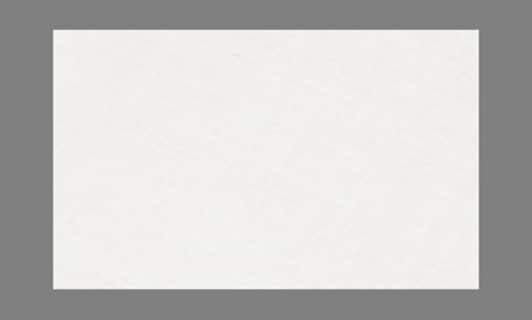 For glass defect repair, polyester and acrylic solid surface finishing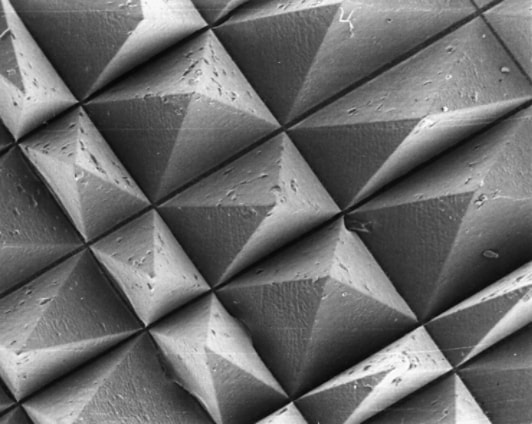 3M™ Trizact™ Abrasive surface, 50x magnification
Finish and Repair Sensitive Surfaces
We engineered 3M™ Trizact™ PSA Film Sheet 568XA with defect repair in mind. Sensitive surfaces, like glass and acrylic, require an abrasive that cuts aggressively without significantly gouging or scratching the surface. The mineral, adhered to a PSA backing using microreplication technology, cuts consistently and produces a high gloss level, which is often desirable during surface finishing. What's more — the film backing is water resistant and requires little water for touch-up, minimizing mess and processing steps.
About Cerium Oxide
One of the secrets to this product's success is cerium oxide. The average grain size of the particle is measured in nanometers in raw form, thus making it one of the most effective abrasives for final polishing steps on solid surfaces. It is heat resistant and effective as a polishing agent for glass mirrors, plate glass, crystal, television tubes, ophthalmic lenses, precision optics and precious and semiprecious stone.
The Trizact Advantage
3M offers a product that not only gets the job done, it offers durability and sharp cut for longevity, helping to reduce the hassle of frequently replacing abrasive product. Unlike conventional abrasives, 3M™ Trizact™ products start sharp and stay sharp, resulting in more predictable finishes and improved, consistent quality. 3M™ Trizact™ products last longer than conventional abrasives and provide precise finish control such that operators can reduce grade sequences, requiring fewer process steps and fewer abrasive products. Three-dimensional structures uniformly distributed over the entire surface ensure consistent performance and eliminate product-to-product variation.
Precise and Consistent Abrasive Surface
Here's how it works: 3M™ Trizact™ Abrasives feature an engineered surface of patterned, microscopic three-dimensional structures resembling pyramids. As the abrasive is used, the tops of the pyramids wear away, continually exposing fresh abrasive. This ensures a consistent cut rate and finish throughout the long life of the 3M™ Trizact™ Film Roll 568XA.
Learn more about 3M™ Trizact™ Film
(PDF, 998.6 Kb)