Variety of abrasive applications eliminates the need to purchase additional abrasives
Made of aluminum oxide to provide strength and durability
Easy attachment and removal from tools to increase speed and ease of work
Compatible with 3M™ Hookit™ products to give users exacting precision and choice of hand or machine use
Leading "Best in Class" rating for unparalleled quality
3M™ Hookit™ Red Abrasive Sheet 316U is an economical option for sanding and shaping a variety of substrates common to automotive repair jobs. This abrasive product is ideal for professional auto body mechanics and car owners.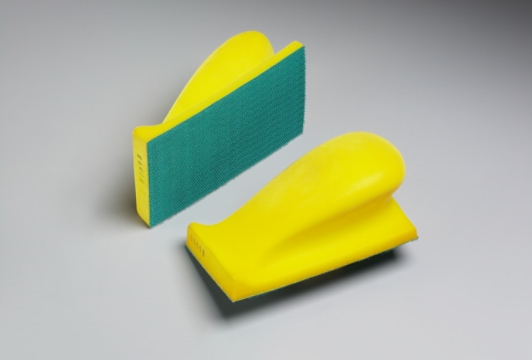 Use with a Hookit™ sanding block for consistent, uniform sanding results
Speedy Attachment and Easy Re-Use
3M™ Hookit™ Red Abrasive Sheet 316U can be used with Hookit™ products that allow for easy attachment and removal from a compatible tool set, increasing the speed and ease of jobs. This provides ease and flexibility when transitioning from hand use to machine. When it comes to product performance, our abrasives deliver a uniform and consistent finish with each and every use, over the entire life of the abrasive sheet. Proper use of these abrasives with 3M™ Hookit™ attachment system also allows for easy reuse and a longer performance that can save money and reduce wasted effort during repairs.
Versatility Reduces Inventory
Whether it's removing a scratch with a feather-edging technique, shaping filler, paint finishing, or primer sanding, we have the correct abrasive for your automotive job. This reduces, if not eliminates, the need to purchase other abrasives that won't last as long and may have a more limited range of uses. When working with automobile surfaces — especially cosmetic ones — it's essential to use precise and nimble abrasives that will get the job done without damaging surfaces.
Our line of abrasives
(PDF, 3.5 Mb) gives you the right tool for sanding or shaping one or more surfaces (depending on model) including — primer, clear coat, fiberglass, paint, or plastic filler.
Ideal for achieving a true flat surface
Choose from a Wide Range of Grades
Our 3M™ Hookit™ Red Abrasive Sheet 316U comes in grits ranging from 40 to 320 — giving users the proper tool to complete jobs with accuracy and precision. These abrasives are made of aluminum oxide, a material known for its hardness and strength. This means that abrasive sheets have a good performance level and durability to stand up to prolonged use.
3M Quality, Trusted Performance
Our red abrasives sheets are trusted and used by many industry professionals who know that our "Best in Class" products deliver much more than just an award winning title; they are thoroughly tested to provide top performance when put to the test against competitors. This comes from more than 100 years of creating effective, long-lasting automotive tools for industry professionals, as well as car owners, and collectors.