3M™ Trizact™ Industrial Diamond PSA Cloth Sheet 673FA is constructed with 3-dimensional abrasive mineral containing micron-graded diamond particles, a resin bonding system and a Y-weight cloth backing laminated to a polycarbonate backing for support. This abrasive runs with an aqueous coolant. These sheets are ideal for flat lapping and finishing of hard-to-grind materials.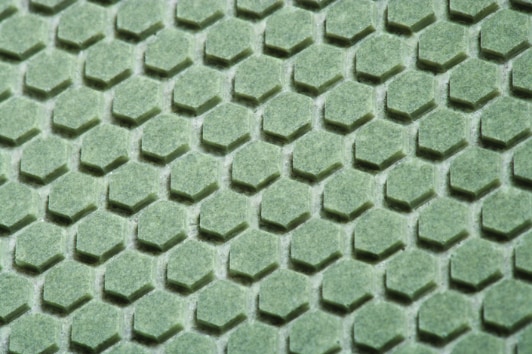 Trizact 673 FA/LA abrasives provide outstanding flat grinding & finishing performance
Flat, Fast and Fine
We designed 3M™ Trizact™ Industrial Diamond PSA Cloth Sheet 673FA abrasives to achieve a new dimension of speed, consistency and control for flat finishing, grinding and lapping of technical ceramics, glass and exotic metals.
One of the hardest materials on the Mohs scale, the sharp, angular structure of diamond mineral is ideal for coarse grind, to achieve part dimension and planarity and intermediate grind and pre-polish, to help reduce total cycle time.
This diamond sheet is available in a broad range of grades from A300 to A20.
Cleaner and More Cost-Effective
Designed to work with aqueous coolants, our diamond sheets reduce cleanup and toxic waste disposal issues associated with abrasive slurries. They can be used on existing flat grinding and finishing equipment.
To achieve precise surface parameters, the size, shape and surface of the diamond particle in the abrasive is paramount. Consistent abrasive mineral size is key for optimum material removal rates and constant uniform contact for a fine finish. Irregular size and shape can scratch or gouge.
Learn more about 3M™ Trizact™ Diamond Abrasives 673FA/LA
(PDF, 2.1 Mb)