The 3M™ Paint Defect Removal Abrasive Circle Sheet is a small, durable abrasive for removing paint nibs and other defects by hand, without having to sand, compound and polish entire panels. Featuring 3M's fast-cutting, long-lasting aluminum oxide abrasive, the thin film-backed 32 mm circle fits onto specially-designed hand sanding cylinders for fast, efficient hand sanding right in your fingertips.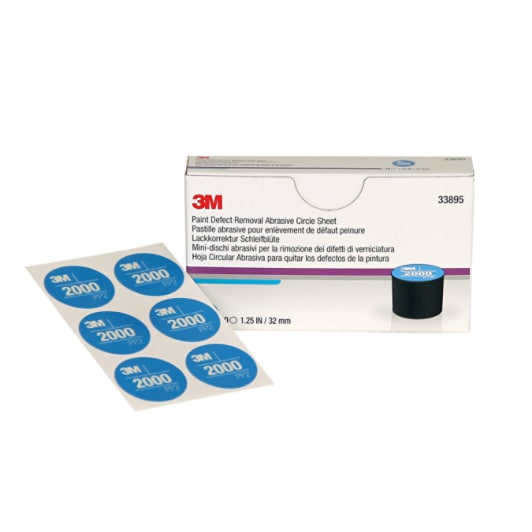 Removes dirt nibs and other paint defects
Power in the Palm of Your Hand
Part of our Paint Defect Removal Hand Sanding System, our 3M™ Paint Defect Removal Abrasive Circle Sheet is shaped for cutting out small paint nibs in painted surfaces by hand without sanding the surrounding areas. This 32 mm (just over 1-1/4") circular abrasive sheet acts as a miniature orbital sander, right in the palm of your hand. It features durable film backing that can be used for dry sanding or wet sanding. Coated aluminum oxide abrasive is optimized to resist loading and remain sharp when sanding small areas. Choose from a range of fine grades for removing small defects, dirt nibs and sand scratches.
The Abrasive Circle Sheet fits onto our specially-designed handheld cylinder, also part of the system, to form a small microsanding tool for powerful sanding in minimal repair areas. Our Stikit™ adhesive attachment keeps it secure and firmly in place during hand sanding. Technicians do not need to sand most or all of a painted panel to remove small defects, saving time and materials. And minimal compounding and polishing means much less time is required for cleanup.
Our Stikit™ Attachment System
Our Abrasive Circle Sheets come ready to use with a pressure sensitive adhesive coating on the backs — simply press them onto the Paint Defect Removal Hand Sanding Cylinder and you're ready to go. The circles stay put even during aggressive sanding. They remove just as cleanly, leaving an uncontaminated surface for the next circle. This makes it fast and easy to change Abrasive Circle Sheets among tools, and to reuse them for maximum abrasive life and cost-efficiency.
The Science of Better Paint Finishing from 3M
The Paint Defect Removal Abrasive Circle Sheet is part of our
3M™ Paint Defect Removal Hand Sanding System
(PDF, 421.8 Kb) — small, advanced abrasives and hand tools that save time and money removing paint nibs and other small defects. It's another way that 3M applies science to the lives of auto repair technicians, consistently improving your efficiency, throughput and value as you prepare painted surfaces.