Purple abrasives are 3M best performing class for professional results
Premium quality delivers uniform, consistent finishes every time
3M™ Hookit™ attachment system allows for easy reuse
Long-lasting abrasives reduce material consumption
High-performance aluminum abrasive cuts fast and resists loading
3M™ Hookit™ Purple Clean Sanding Abrasive Sheet 334U is recommended for featheredging and final sanding. Our best of class 3M abrasive delivers uniform, professional-quality results for superior automotive work. 3M™ Hookit™ attachment system allows for easy reuse.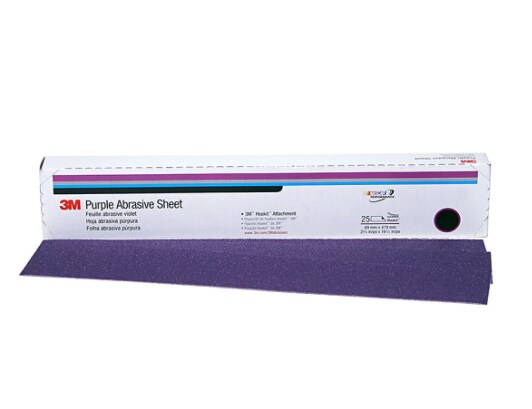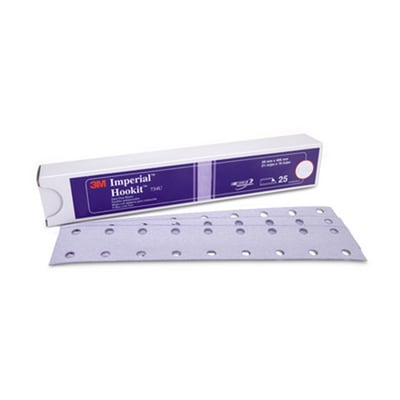 Choose either No-Hole or Dust-Free sheets depending on your application and desired results
Available in No-Home and Dust Free Sheets
Our versatile abrasive sheets may be used on a variety of sanding surfaces, including clear coats, fiberglass, filler, metal, paint and plastic. These sheets are available in either no-hole or dust-free configurations to maximize productivity. The no-hole abrasive sheets are recommended for stripping paint or sanding marine fairing compounds. The dust-free sheets excel at stripping paint to metal, shaping and sanding plastic filler. These sheets may be used for either machine or hand sanding in dry sanding applications.
Aluminum Oxide Cuts Fast and Lasts Long
These sheets feature a unique mineral blend of aluminum oxide. We chose aluminum oxide abrasive, which is a popular choice among industrial professionals, because of its fast cut-rate and long life. This mineral makes a tough, durable abrasive that self-fractures to expose fresh cutting edges. Due to its fast cut-rate, hardness, and strength, it is widely used in automotive bodywork applications.
Choose Quality Abrasives that Deliver Superior Performance
Our best performing class of 3M purple abrasives will pay off with a longer life, faster performance, more consistent results and higher quality repairs that reduce rework.