Our 3M™ Zeta Plus™ DEL Series Filter Cartridges incorporate lipid-specific adsorbents that help reduce lipids, surfactants and other biological contaminants from human blood plasma, serum-based products, recombinant proteins and other biological fluids.
Problem:
During protein purification processes, lipid contamination can cause an assortment of processing problems. Lipids can foul and plug expensive chromatography columns and membrane filters. Lipid contamination can also cause solution instability of intermediate and final protein products leading haze.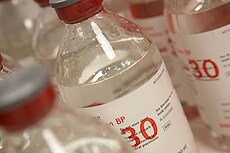 Solutions for pharmaceuticals
Solution:
Our Zeta Plus™ DEL Series filter cartridges may be an option to replace bulk precipitated silica operations, which are labor-intensive and require multiple operations to implement. Zeta Plus DEL series media can be used to help remove the following lipid classes: mono-, di-, and triglycerides, fatty acids, cholesterol, phospholipids, and lipoproteins. Reduction of lipid contaminants from protein solutions may lead to improved processing economies, and improved product purity. We manufacture Zeta Plus BC Series Filter Capsules using fluid contact product components that are compliant to USP <88> Class VI Biological Reactivity Tests.
Zeta Plus DEL Series filter media contains a mixture of precipitated silica aids, cellulose and a crosslinking polymer binder resin. The precipitated silica adsorbents provide the active component for lipid reduction. In addition, the polymer binding resin used in this product family contains a balance of tertiary and quaternary amines resulting in a positively charged media. The surface charge enhances the filtration effectiveness by attracting negatively charged contaminants too small for removal by mechanical sieving.
Media Choices and Sizes
Zeta Plus™ DEL Series Filter Cartridges are offered in sizes for applications ranging from small laboratory volumes to production-scale manufacturing operations. Filter cartridges are available in 8", 12", and 16" diameter providing effective filtration area from 0.06 m² to 3.2 m².
Applications
Lipid reduction from human blood plasma proteins such as albumin, coagulation factors, fibrinogen, and immunoglobulins
Reduction of residual lipids from serum, fermentation broths and cell culture fluids
Reduction of detergents and surfactants from biologicals
Protection of chromatographic columns and membrane filters
The Shape of Zeta Plus Filtration
The lenticular depth filters used in Zeta Plus filters are fabricated from two circular discs of filter media bonded along the outside rim and separated by a filtrate outlet tube at the center, which gives the disc its characteristic lens shape. Each Zeta Plus disc can then be stacked along a common exhaust manifold to produce a multicell cartridge. Several cartridges can be systematically stacked in series in larger vessels.