We combine two asymmetric polyethersulfone (PES) membrane layers with Advanced Pleat Technology in manufacturing LifeASSURE™ PDA Series Filter Mini-Cartridges, creating a filter that provides high throughput and fast flow. These filters have applications in pre-filtration and sterilizing filtration in the pharmaceutical, biological, and bioprocess industries where low protein binding is critical.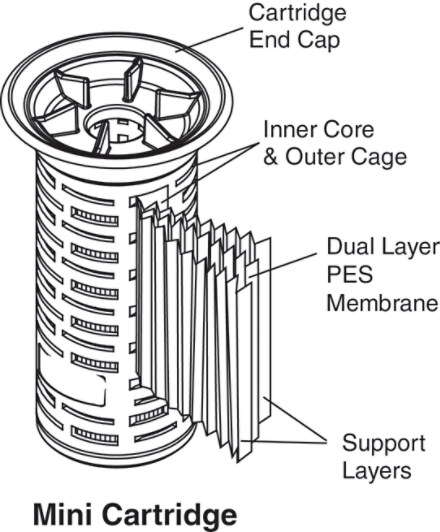 Open flow paths between media pleats result in lower pressure drops
Biologicals
Orals and topicals
Vaccines
Parenterals (SVP, LVP)
Ophthalmics
Final 0.1 and 0.2 µm sterilizing filtration
Chromatography column protection
Serum and blood fractions
Solvent filtration
Bulk pharmaceutical chemicals
Media and fermenter feed streams
Cell culture fluids
High protein feed streams
Reagents and Buffers
High purity DI water and WFI systems
We use all-polypropylene structural components (end caps, adapters, media support, inner core and outer cage). We offer the LifeASSURE™ PDA filter mini-cartridges in two lengths.
Engineered for Quality and Reliability
Our Quality Management System is approved by an accredited registering body to the ISO 9001:2008 and ISO 13485:2003 Quality Management Systems, and the cartridges are 100% forward flow integrity tested prior to shipment. We ship all LifeASSURE™ PDA cartridge and capsule filters with a Certificate of Quality affirming compliance with manufacturing quality specifications. Additionally, supporting Drug Master File (DMF) documentation is on file with the United States Food and Drug Administration (FDA) and a complete LifeASSURE PDA Validation Guide is available upon request.
Meeting Your Scale-Up Needs
We are pleased to offer a full range of LifeASSURE™ PDA sterilizing-grade filters to meet your scale-up process needs. This includes pre-sterilized or sterilizable disposable capsules in various sizes as well as full-size cartridges. We also offer filter discs and 50 mm capsules when even smaller membrane surface areas are required.