The Betafine™ PBG Series Filter Cartridge is an absolute-rated, graded-porosity 100% polypropylene pleated filter cartridge that features Advanced Pleat Technology (APT). APT increases the usable filtration service area while maintaining standard industrial cartridge dimensions.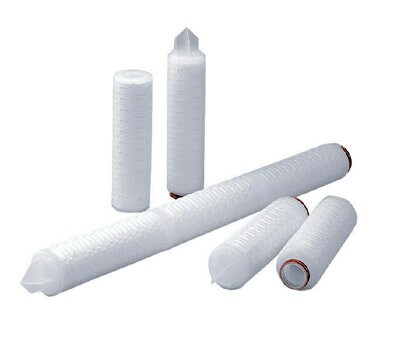 Polypropylene construction provides chemical compatibility in many demanding process fluid applications
The Betafine™ PBG Series Filter Cartridge has a variety of applications — cleaning fluids, solvent streams, food fermentation, air and gas pre-filtration, as well as final filtration processes. Our filter cartridge is constructed of FDA CFR-21 listed material. Betafine PBG series filter cartridges are available in a range of absolute micron ratings, from 0.2 to 10 microns. Proper use of our Betafine PBG Series Filter Cartridges reduces undesirable turbidity and haziness that could adversely affect the color, taste and overall quality of beverages.
Applications
Prefiltration before final membrane filtration
Final product clarification
Food fermentation feeds, intermediates and fermentation clarification
Blending water filtration
Cleaning fluids
Solvent streams
Air and gas prefiltration and final filtration
Learn more about Betafine™ PB & PTG Series Pleated Polypropylene Filters
(PDF, 5.18 Mb)