Our LifeASSURE™ PLA Series Filter Mini‐Cartridges encompass two important design elements— multi‐zone microporous membrane and Advanced Pleat Technology — to offer prefiltration protection of final membrane filters. These filters have application in prefiltration and clarification in the pharmaceutical, biological and bioprocess industries.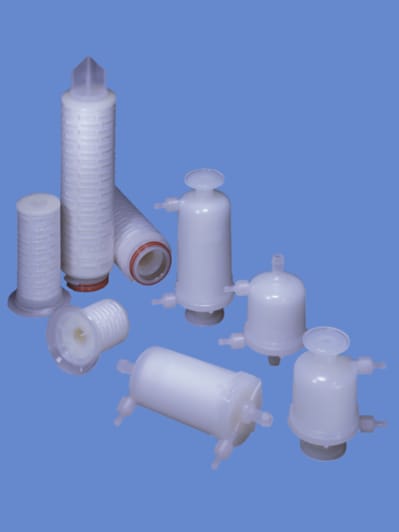 True membrane construction ensures superior removal of microorganisms
Multi-zone Microporus Membrane Construction
We incorporate our multi-zone microporous membrane technology into our LifeASSURE™ PLA Series filter Mini-Cartridges. This technology allows great flexibility in creating a multi-zone membrane that offers excellent contaminant holding capacity while maintaining high retention efficiency. The filter membrane used in our LifeASSURE PLA Series Filter Mini-Cartridges consists of an "open" zone on the upstream side of the membrane and a "tighter" zone on the downstream side. In effect, the open zone acts as a prefilter by capturing larger particles and colloids.
Advanced Pleat Technology Design
LifeASSURE™ PLA Series Filter Mini-Cartridges also feature our Advanced Pleat Technology (APT) design for extended service life. This design technology is intended to increase the useful surface area while maintaining open flow paths between media pleats.
Performance Engineered for Quality and Reliability
We manufacture LifeASSURE™ PLA Series Filter Mini-Cartridges using all polypropylene structural components (end caps, adapters, media support, inner core and outer cage). The 3M Purification Inc. Quality Management System is approved by an accredited registering body to the ISO 9001:2008 and ISO 13485:2003 Quality Management Systems, and the cartridges are 100% forward flow integrity tested prior to shipment. All LifeASSURE PLA Series Filter Mini-cartridges are shipped with a Certificate of Quality affirming compliance with manufacturing quality specifications. Supporting Drug Master File (DMF) documentation is on file with the United States Food and Drug Administration (FDA).
Applications
0.20 µm final sterilizing filter protection
Parenterals (SVP, LVP)
Reagents & Buffers
Vaccines
Serum & Blood Fractions
Particulate & Bioburden Reduction
Cell Culture Fluids
Fermenter Feed Streams
Solvent Filtration
High-Purity DI Water and WFI Systems
Ophthalmics
Orals & Topicals
Learn more about LifeASSURE™ PLA Series Filters
(PDF, 315.08 Kb)