Use 3M™ Silicone Paste for the many areas of your vehicle that require long-term protection from the harsh conditions of environmental exposure. This non-hardening, water-resistant paste can be applied heavily to help seal out contaminants and weather. It can also be spread thin for nearly invisible lubrication and protection.
Safe for use on all the rubber and plastic parts of your vehicle
A Multiple-Purpose Auto Lubricant and Protectant
So many uses, so much value — our 3M™ Silicone Paste is a non-hardening, water resistant, 100% silicone-based compound designed to lubricate and protect a broad range of surfaces and surface combinations. This compound is suitable and safe for use on the plastic-to-plastic, plastic-to-metal, plastic-to-rubber, rubber-to-rubber, and rubber-to-metal areas throughout your vehicle. It both conditions the rubber to keep it soft and supple and protects it from damage due to wear & tear and environmental exposure. It has excellent dielectric properties, meaning it insulates rather than conducts — use it under your hood to protect battery terminals, ignition systems and other low voltage electrical parts where arcing can cause oxidation or corrosion.
Apply this paste thick to help seal out moisture, contaminates and other environmental elements or spread it thin for a nearly invisible coating that will provide lubrication and protection. A brush is permanently attached to the top of the container to make applying 3M™ Silicone Paste more convenient.
Recommended Applications
Weatherstrip seals: doors, trunks, hatches, sun-roofs, etc.
Can help eliminate squeaks in instrument panels and from other trim panels.
Excellent for lubricating the threads of fasteners that screw into plastic: dash panels, interior parts, trim parts, headlight bezels, taillight lenses, license plates, grills and fog lamps
Lubricate tight fitting plastic & rubber parts during re-assembly: hoses, O-rings, rubber grommets, chassis & steering bushings, etc.
Dielectric grease for electronic equipment, ignition systems, and electrical terminals.
Spark plug wire terminals
Bulb bases: Tail lights, turn lights, marker lights, stop lights, convenience lights, trailer lights
Brakes: caliper guide pins, outer caliper seals, outer wheel cylinder seals
Seat tracks, window tracks and window regulator mechanisms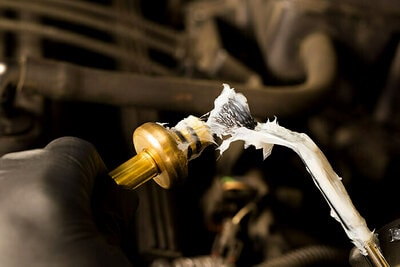 Can be applied in a thick film for long term performance in severe conditions
The Science of Vehicle Care from 3M
We developed this lubricant and protectant to save you time and help you get the most enjoyment and value from the vehicles you own. With its easy application and ability to protect a wide range of surfaces, our 3M™ Silicone Paste is another great example of how 3M applies science to life — and makes your life easier when it comes to making your vehicle look and perform its best.
Do not use on the steering wheel, seats, brake pedal, accelerator pedal, clutch pedal or other operational controls of your vehicle as surfaces may become extremely slippery and prohibit proper use of these safety and functional items. Not suitable for use on cosmetic surfaces (dash pad, arm rests, center counsel, etc.) as material may transfer to clothing or skin, cause surfaces to become extremely slippery and collect light dust. Not suitable for use on glass or optically clear plastics (windows, instrument cluster lenses, plastic headlights, etc.).