A multi-purpose spray lubricant that provides long-lasting protection on metal surfaces from rust and corrosion
Product solves recurring friction on parts that rub together
Can comes with an extension tube to target spray into tight locations
Versatility allows for use on cars, trucks, boats, motorcycles, bicycles, garage doors electrical components, lawn equipment, windows and doors
Aerosol delivers convenient applications
3M™ Multi-Purpose Spray Lubricant is an ideal choice for general or all-around use. Our lubricant provides characteristics of both a lubricating and penetrating oil. It provides a demoisturizing coating to help protect metal surfaces from corrosion. This spray-on lubricant produces a thin bodied, transparent rust preventive coating that is low profile yet highly protective.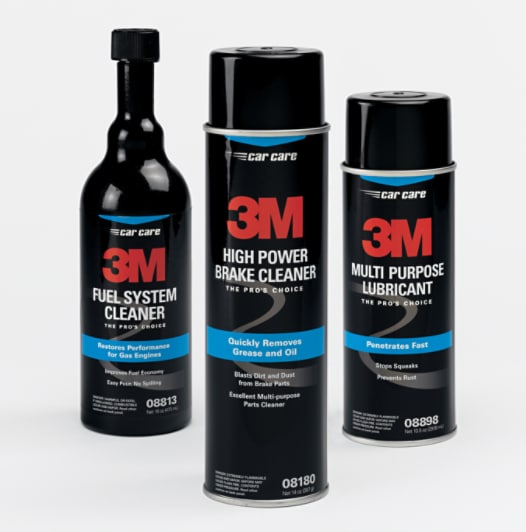 3M™ Multi-Purpose Spray Lubricant is part of the 3M Auto Care Performance Package. (All items sold separately)
Versatile, Spray-on Lubricant
3M™ Multi-Purpose Spray Lubricant is a specialized, long lasting formula that can be applied to almost anything on a vehicle to reduce rubbing effects and friction. It also protects metal from rust and corrosion. Our product offers potentially thousands of uses. The penetrant is commonly used to loosen metal parts that have fused together and are stuck to one another, usually as a result of rust or corrosion. It can even be used as a cleaner, such as removing grease and grime, and to silence squeaky parts. Electricians commonly use this product to displace water and to remove the moisture from electrical systems.
Automotive Uses
Our product is
commonly used on rusted or corroded metal parts
(PDF, 1.8 Mb), door locks, truck lids, brake cables, rubber moldings, hood hinges, car door hinges, adhesive removal, bolts and screws. Specialty uses include lubricating convertible top zippers and loosening corrosion on battery cables.
Garage Uses
Our product is often used to remove and prevent rust on tools, loosen hinges and doors, as well as lubricate rusted screws, bolts and nuts. It may also be used to lubricate lawn mower control cables.