3M™ Wheel and Tire Cleaner is formulated to meet the special challenges of cleaning wheels and tires, in one easy step. This powerful solution removes even the most difficult buildup from the road – brake dust, road tar, grease, grime and more. With a simple pull of the spray trigger and a light scrub, you can remove scuffs from tire sidewalls and polish wheels to a brilliant "like new" shine.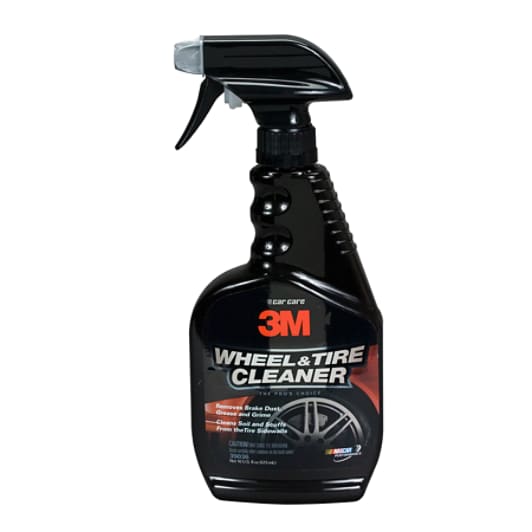 16 fl. oz. bottle
Specially Formulated for Cleaning Wheels and Tires
Clean, shiny wheels and tires can make a stunning difference in the overall look of your vehicle. That's why our 3M™ Wheel and Tire Cleaner is critical for vehicle cleaning and detailing. This formula removes brake dust, road tar, grease and grime, even from places where they build up the most. It cleans soil and scuffs from tire sidewalls and leaves wheels with a brilliant shine.
3M™ Wheel and Tire cleaner is a one-step,
spray-on solution
(PDF, 345.23 Kb) that is fast and easy to use. It comes in a convenient spray-trigger bottle with a consistent spray pattern, to easily achieve good, even coverage. It is great for use on all types of vehicle tires: cars, trucks, RVs, trailers, street rods, motorcycles, all-terrain vehicles and more.
The Science of Vehicle Care from 3M
We developed this specially formulated wheel and tire cleaner to save you time and get the most enjoyment and value from the vehicles you own. 3M™ Wheel and Tire Cleaner is another great example of how 3M applies science to life — and makes your life easier when it comes to making your vehicle look its best.