3M™ Clear Repair Tape patches splits, cracks, tear, holes and other damage that occurs in a vehicle interior over time. Our tape applies smoothly and tightly holds with its proprietary 3M adhesive that ensures a reliable bond. Its crystal clear, transparent color is low profile to minimize its appearance wherever applied.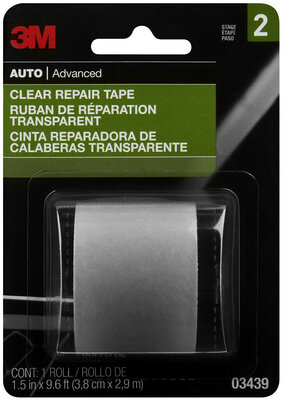 Repairs torn vinyl car covers and offers tight, water resistant seals on many surfaces
See the Difference with Our Clear Repair Tape
When the inevitable tear, rip or hole occurs in vinyl or plastic, 3M™ Clear Repair Tape is the answer for a quick repair that will securely hold. Our repair tape combines benefits that include exceptional clarity, strong adhesion and a reliable bond. With its crystal clear transparency, the tape allows the color of the surface below to show through, meaning the tape won't become an eyesore itself. Our tape also resists yellowing as it ages, maintaining its original transparency. We made our tape to apply with ease and form a secure bond that won't loosen or curl with age. The toughness of the tape backing resists abrasion, splitting, accidental tearing and punctures.
Fix Little Problems Before They Become Big
When damage occurs, that's bad enough. But if a tear or rip spreads, the frustration only grows. It's better to fix a small problem today rather than allow it to spread tomorrow. Our 3M™ Clear Repair Tape patches existing damage so that it is less likely to spread. By creating a secure, water-tight seal, our tape also helps block moisture from entering through the damage. Moisture intrusion through a hole can lead to internal dampness, mildew and corrosion, which is another problem where preventive measures can pay off.
Versatile Tape Adheres to Many Surfaces
Use our 3M™ Clear Repair Tape on many materials, including vinyl, leather, nylon, plastics and more. This product is commonly used on car seats where damage such as holes and tears frequently occur. Using a high adhesion, durable tape in these locations is essential because of the high contact nature of seats. The tape allows for a little stretching when car seats are bearing weight.
Easy to Apply
This tape is a user-friendly product. Simply clean and dry the surface before applying. You can apply and expect good adhesion at any temperature above 50°F/10°C. No tools except for a scissors to cut the tape are needed. Position the tape in the desired location and press down with a hand. That's all there is to patching a rip or tear.
Use on Automobile Seats and More
Our tape comes in handy for repairs on many types of vehicles, such as cars, trucks, boats, motorcycles, jet skis, ATVs, snowmobiles and golf carts.
See more 3M Automotive Tape Products
(PDF, 68.63 Mb)