8 separate and distinctive colors provide easy solutions for 5S coloring and marking applications
Unique stretch properties enable tape to remain stretched to conform to uneven surfaces without lifting and retracting
Rubber adhesive provides good adhesion to a variety of surfaces
Backing resists abrasion, scuffing, moisture and weathering for long service life
Tape removes cleanly from many surfaces to help reduce clean-up labor costs and rework
3M™ Vinyl Tape Safety and 5S Color Coding Pack is a versatile and multi-use combination pack consisting of 1 roll each of yellow, orange, red, green, blue, and black colored 3M™ Vinyl Tape 471, 1 roll of black and white 3M™ Safety Stripe Tape 5700 and 1 roll of black and yellow 3M™ Safety Stripe Tape 5702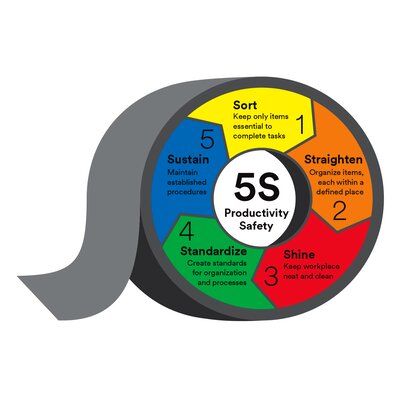 Choose from a variety of bright colors
A Specialized Solution for Every Problem
Convenient pack of color coding vinyl tapes to help implement the 5S system by providing floor marking and safety identification. The included 3M™ Vinyl Tapes and 3M™ Safety Stripe Tapes come in a variety of bright colors that are locked into the vinyl for permanent high visibility. Perfect for lane marking, hazard and safety warning of floors, loading docks, shipping areas and warehouses.
When compared to painting,
3M™ Vinyl Tapes
and
3M™ Safety Stripe Tapes
are easy to apply requiring minimal downtime of production area thus increasing staff productivity.
Recommended Applications
Yellow for aisles, walk-ways and traffic lanes, work cells
Orange for material or product inspection or temporary storage locations
Red for safety or first aid, defect, scrap or red tag marking
Green for material and manufacturing, finished goods
Blue for material and manufacturing, raw materials
Black for materials and manufacturing, work in progress
Black and yellow for areas of potential health risks, extra caution needs to be taken
Black and white for areas to stay out of for operational purposes