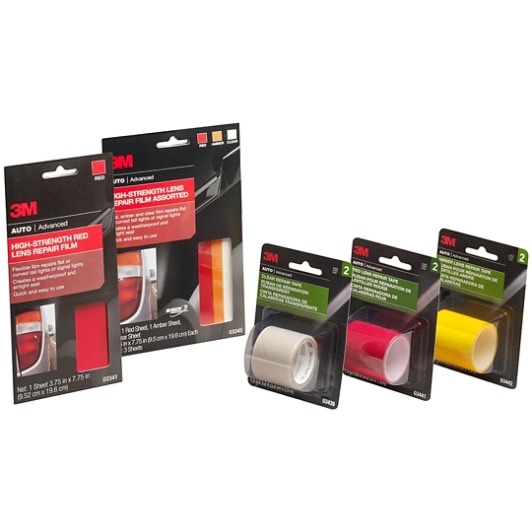 3M™ Lens Repair Tapes and films are designed for the temporary repairs of broken or cracked taillights, parking lights and side directional lights
Patch Broken Taillight Covers
When a taillight or turn signal light cracks, 3M™ Lens Repair Tape is the answer for a quick repair that will securely hold. Our repair tape combines benefits that include exceptional clarity, strong adhesion and a reliable bond. Available in both red and amber, the tape is low profile in appearance when applied. We made our tape to apply with ease and form a secure bond that won't loosen or curl with age. The toughness of the tape backing resists abrasion, splitting, accidental tearing and punctures.
Fix Little Problems Before They Become Big
It's important to tape a crack in your taillight or turn signal quickly to limit or curtail any additional cracking. It's better to fix a small problem today rather than allow it to spread tomorrow. This tape will provide a temporary solution until a replacement light cover can be installed. By creating a secure, water-tight seal, our tape also helps block moisture from entering through the damage. Moisture intrusion through cracks can lead to internal dampness and corrosion, which is another problem where preventive measures can pay off.
Easy to Apply
This tape is a user-friendly product. Simply clean and dry the surface before applying. No tools except for a scissors to cut the tape are needed. Position the tape in the desired location and apply slight pressure.
Use on Cars, Trucks, ATVs and Other Vehicles
Our tape comes in handy for repairs on many types of vehicles, such as cars, trucks, boats, motorcycles, trailers, ATVs, snowmobiles and golf carts.
See Also:
Discover More 3M Automotive Aftermarket Solutions
(PDF, 68.63 Mb)
Repair tape patches cracks in taillights, turn signals, parking lights and side directional lights
Strong adhesion resists loosening with age and moisture
Flexible repair tape repairs flat or curved truck and car taillights and signal lights
Quick and easy to use repair tape is less expensive than replacement taillights for minor damage
Provides temporary repair of more severely damaged taillights and signal lights