Thin, high-strength polyester backing resists tearing and protects surfaces from abrasion
Transparent backing allows visibility of information protected by the tape
Resistant to many solvents including jet engine fuel, hydraulic fluid and lubricating oils
Temperature resistance enables tape to perform in high temperature operations
Aggressive acrylic adhesive provides quick stick and excellent long-term holding
Meets several U.S. government and aerospace specifications
Meets flammability requirements of FAR 25.853(a) Appendix F Part I (a)(1)(ii)
Comprised of a strong polyester backing and coated with an aggressive acrylic adhesive, 3M™ Polyester Film Tape 853 is a solvent resistant tape that is ideal for applications where exposure to chemicals is a concern. This tape meets demanding applications in a variety of industries.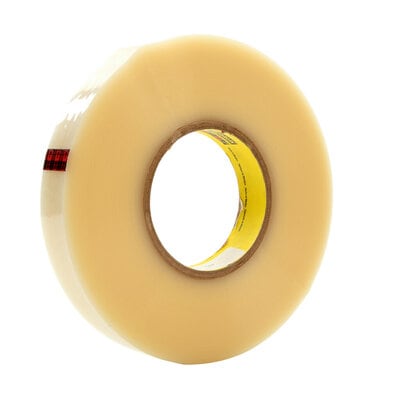 Ideal for applications where solvent exposure is a concern
Resistant to Fuels, Solvents and Chemicals
Our
3M™ Polyester Film Tape 853
(PDF, 20.95 Mb) is a transparent polyester film tape with solvent resistant acrylic adhesive. It is designed to withstand the rigors of processes where exposure to solvents is a concern. This includes many applications for which this tape is ideally suited because of it is thin but durable design. The backing has a low moisture vapor transmission rate, making it ideal for extended use. When used in critical label protection, this tape won't obscure vital information. The tape can withstand a wide temperature range from -60°F/-50°C to 300°F/150°C. 3M™ Polyester Film Tape 853 can be qualified to meet Federal Spec. L-T-100 Type 1. It also meets flammability requirements of FAR 25.853(a) Appendix F Part I (a)(1)(ii).
Recommended Applications
Critical label protection requiring resistance from jet engine fuel, hydraulic fluid and lubricating oils
Aerospace applications that require FAR flammability rating
Sealing critical area from moisture intrusion