3M™ Double Coated Tape 9816M features an aggressive, high tack rubber adhesive on a white polyester film carrier. This tape bonds immediately to most rubbers and open- and closed-cell foams, polyester and many plastics including PU, PE and polystyrene, and delivers good heat resistance. A 74# densified kraft liner adds dimensional stability for rotary die-cutting.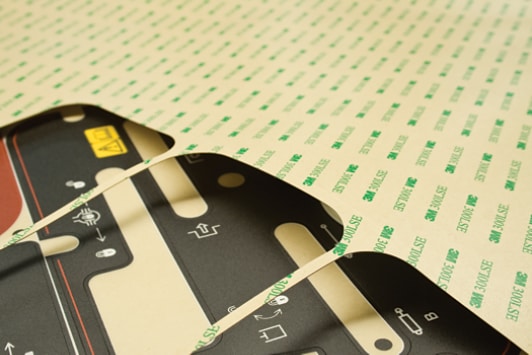 General purpose, high tack, rubber-based adhesive
A Balanced and Economical Tape for General-Purpose Industrial Applications
With a nominal thickness of 3.5 mils, our
3M™ Double Coated Tape 9816M
(PDF, 13.54 Kb) is a general-purpose industrial tape that provides an immediate bond to most open cell urethane and closed cell urethane foams. This tape features an aggressive rubber-based adhesive which bonds to polyester, polyester urethane, polyethylene, polystyrene, vinyl foams and most rubbers. It is applied on each side of a white polyester film carrier which adds dimensional stability to foams and other substrates, and provides easier handling. The 74# densified kraft paper liner adds dimensional strength for effective slitting and rotary die-cutting. 3M™ Double Coated Tape 9816M has been tested for heat resistance from 150°F/65°C for short periods, and 120°F/49°C long term.
Learn more about 3M™ Double Coated Tapes
(PDF, 124.55 Kb)
Recommended Applications
General purpose foam and rubber lamination
General purpose lamination for fabricated parts
Metals and high surface energy plastics
What are Double Coated Tapes?
In general, double coated tape is composed of a paper, film, or tissue carrier that is coated on both sides with pressure sensitive adhesive. The adhesive is protected by a peel-away liner that can be removed at the time of application or left in place until the joining surfaces are ready to be attached. These tapes can be applied manually or automatically. Applications for double coated tape are found in construction, transportation, medical and general industrial markets.
Bringing Better Ideas to the Surface through Science
In our 3M Industrial Adhesives and Tapes Division, we apply the science of adhesion to deliver innovative solutions that improve the design and manufacturing processes of companies around the world. In the end, our technologies help customers like you deliver competitive products to the market faster and more efficiently.