3M™ High Performance Double Coated Tape 9088-200 features a modified acrylic adhesive that bonds to most substrates, including difficult-to-stick-to substrates. This adhesive is applied on both sides of a .5 mil PET carrier which adds strength and stability and is excellent for a wide range of applications. A glassine paper liner makes for efficient conversion processing.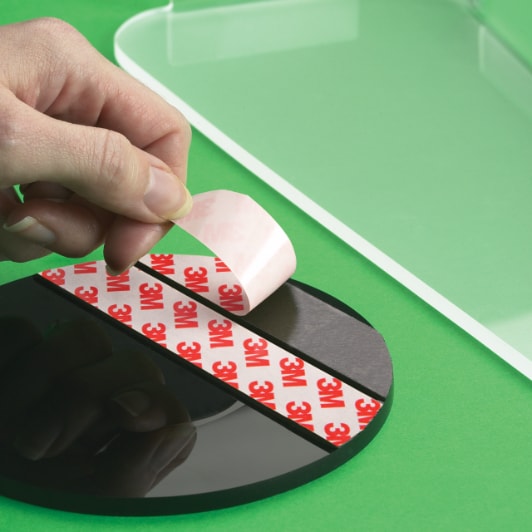 3M™ High Performance Double Coated Tapes with Adhesive 375 holds tight to bond on contact to almost any high and low surface energy substrate
A Remarkable Combination of Strength and Sustainability
Like many of our double sided tapes, 3M™ High Performance Double Coated Tape 9088-200 is designed as a go-to industrial tape for long term adhesion in a very broad range of applications where a thicker tape is desired. The adhesive is applied at 3.7 mils to each side of a strong, highly transparent .5 mil polyester (PET) film carrier. The tape resists UV, chemicals, solvents and high temperatures. A 3 mil glassine paper liner adds dimensional stability for effective and efficient die-cutting and other conversion methods.
Recommended Applications
POP/POS displays
Self-adhesive mounting of furniture trim
Sealing profiles and cable ducts
Fabric and leather stitching
Blind manufacturers
Print finishing
Splicing
Learn More about 3M High Performance Double Coated Tape 9088-200
(PDF, XX Mb)
3M™ Adhesive 375 Family Provides High Initial Tack
3M™ High Performance Double Coated Tape 9088-200 features our 3M™ Adhesive 375, formulated for very high initial adhesion and excellent peel and shear performance. This high-performance adhesive has been tested for high peel and shear performance on substrates including stainless steel, polycarbonate, glass, HDPE, ABS and high pressure laminate.
Understanding Double Coated Tapes
In general, double coated tape is composed of a paper, film, or tissue carrier that is coated on both sides with pressure sensitive adhesive. The adhesive is protected by a peel-away liner that can be removed at the time of application or left in place until the joining surfaces are ready to be attached. These tapes can be applied by hand or with a dispenser. Double coated tape dispensers are available in a variety of configurations ranging from manual to fully automatic. Applications for double coated tape are found in construction, fabrication, arts, and hobby.
Bringing Better Ideas to the Surface through Science and Innovation
In our 3M Industrial Adhesives and Tapes Division, we apply the science of adhesion to deliver innovative solutions that improve the design and manufacturing processes of companies around the world. In the end, our technologies help customers like you deliver competitive products to the market faster and more efficiently.
Discover More 3M High Performance Double Coated Tapes
(PDF, 1.32 Mb)
Product
Tape
(Total w/o Liner)

Thickness
mils
(mm)
Adhesive 1

Thickness
mils
(mm)
Carrier Type

Thickness
mils
(mm)
Adhesive 2

Thickness
mils
(mm)
Liner Type

Thickness
mils
(mm)
Liner Color
3M Double Coated Tape 9088 - 200
7.9 mils (0.20 mm)
Acrylic

3.7 mils
(0.094 mm)
PET

0.5 mils
(0.012 mm)
Acrylic

3.7 mils
(0.094 mm)
58# Glassine
(94g/m²)

3.2 mils
(0.08 mm)
Printed red 3M
3M Double Coated Tape 9088F-200
7.9 mils (0.20 mm)
Acrylic

3.7 mils
(0.094 mm)
PET

0.5 mils
(0.012 mm)
Acrylic

3.7 mils
(0.094 mm)
Red
Polypropylene
Film

3.2 mils
(0.08 mm)
Solid red