Tire dressing restores deep black color and shine
Silicone-free formula is body shop safe
Easy-to-apply formula takes little time or effort
Helps boost aesthetic appeal of vehicles
3M™ Silicone-Free Tire Dressing produces a deep high-gloss shine on exterior rubber and plastic surfaces. Our high performance tire dressing helps restore that "brand-new" look that enhances the overall appearance of an automobile. This product goes on easily with an applicator pad or spray bottle and it contains no silicone.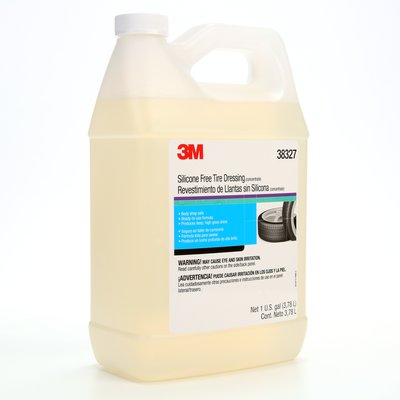 Available in 1-gal. containers, PN 38327
Makes Tires Look New Again
3M™ Silicone-Free Tire Dressing rejuvenates the appearance of tires, restoring the deep black color and shiny appearance that makes a vehicle look sharp. Our product has been formulated for easy applications. Gently apply a thin, uniform coating to a clean, dry tire using a
sprayer
or applicator pad. You can choose the level of gloss by controlling the thickness of the coating. Besides tires, this product may also be applied to other exterior rubber and vinyl automotive surfaces. However, do not use on motorcycles, bicycles, or other two-wheeled vehicles' tires or seats. Also, avoid spraying onto brake rotors, brake drums or brake pedals. Applications to these surfaces can cause them to become slippery.
Body Shop Safe, Silicone Free Formula
This tire dressing contains no silicone, making it a body shop safe product. A growing number of automotive professionals prefer to avoid silicone because they believe it has adverse effects on paint adhesion. Silicone can cause challenges in a body shop by creating a layer that does not allow new paint and other coatings to adhere well. Even though a tire dressing wouldn't be purposely sprayed on to a painted surface, silicone drifting in the air is a concern in body shops. Thus, there is a growing preference for silicone free products.
Boost the Visual Appeal of Your Car, Truck or Van
Our ready-to-use formula offers simplicity and convenience, making it an easy thing to do to
enhance the look
(PDF, 139 Kb) of a vehicle. So whether you simply want to boost your pride in ownership or dress up the appearance of a car being readied for resale, our 3M™ Silicone-Free Tire Dressing offers a lot of advantages for little effort.