The 3M™ Accuspray™ HVLP Test Air Cap lets auto body professionals easily and accurately test 3M™ Accuspray™ spray guns for performance and HVLP compliance. Designed specifically for use with Accuspray™ models HG14 and HG18 spray guns, the test cap indicates functioning air pressure rate with a squeeze of the trigger to help optimize performance and ensure compliance with EPA emissions standards.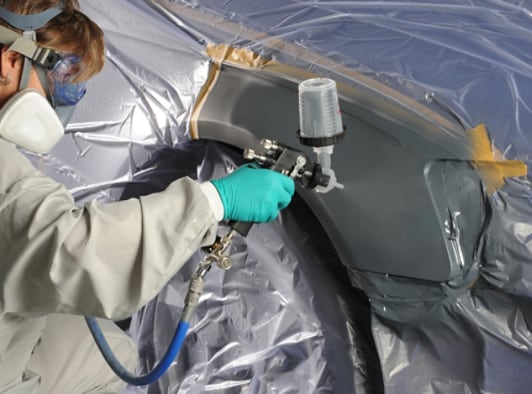 3M™ Accuspray™ System spray guns
A Vital Part of the Accuspray™ System
As part of the ongoing effort to keep auto body facilities clean, safe and in full HLVP compliance, our 3M™ Accuspray™ HVLP Test Air Cap is an important component for use with our 3M™ Accuspray™ System spray guns. This test air cap is designed specifically for the 3M™ Accuspray™ Models HG14 and HG18 (formerly HG09), high volume low pressure spray guns. These precision spray products are designed to deliver 10 psi at the air cap for low overspray and high transfer efficiency while meeting state and federal regulations for air quality management.
Fast, Easy Performance Testing
The HVLP Test Air Cap includes a clear, easy-to-read gauge and a tube which fits quickly into the air cap on 3M Accuspray™ spray guns. The gauge registers the air pressure flowing through the cap with a single squeeze of the trigger on the spray gun, helping auto body professionals to ensure that the gun is operating at optimum pressure and within HLVP requirements.
A Spray System That Pays Off
Our 3M Accuspray™ Spray Guns Model HG14 and HG18 use replaceable 1.4mm or 1.8mm atomizing heads that deliver exceptional atomization for a large usable pattern and very low overspray. Best of all, the spray gun performs like new every time the atomizing head is replaced — the equivalent of a new spray gun, at a fraction of the cost.
The benefits include reduced primer consumption and lower primer spraying time, plus a better finish which results in less sanding time. Minimal overspray reduces cleanup time. The end result: safer, cleaner, more productive, more profitable auto body operations.