A vital part of consistent fluid volume and delivery for your Accuspray™ system
Save money – replace just the needle, not the entire Accuspray™ spray gun
Stainless steel construction resists bending
Designed specifically for Accuspray™ spray guns, ensuring accurate replacement
Our 3M™ Accuspray™ Fluid Needle is designed specifically for your Accuspray™ spray gun and helps keep it operating like new. This stainless steel fluid needle is a vital part for controlling the fluid volume and helping deliver fluids smoothly without leakage through the atomizing heads. Replacement fluid needles are designed for use with Accuspray™ HVLP spray gun models HG09, HG14, HG18 and HGP.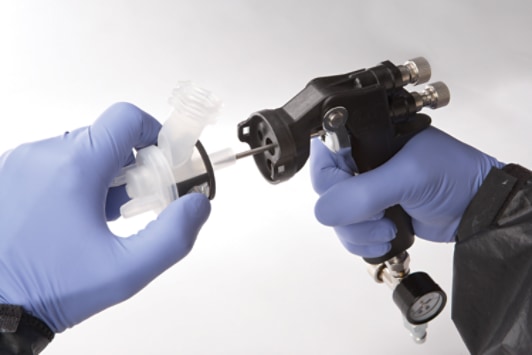 Pull the atomizing head straight out from the gun body to avoid bending the fluid needle
A Spray System That Pays Off
The
3M™ Accuspray™ System
(PDF, 534 Kb) is the equivalent of having a brand new spray gun on demand. The system features a series of replaceable composite tips and replaceable nozzles that deliver atomized fluids smoothly through the spray gun, with large usable patterns and very low overspray. Replace the tip and nozzle, and your gun performs like new — the equivalent of a new spray gun, at a fraction of the cost. The benefits include reduced primer consumption, lower application time and less time for cleanup, plus a better finish which reduces sanding time. The end result: cleaner, more productive, more profitable collision repair operations.
A full range of siphon and gravity feed
Accuspray™ HVLP spray guns
is available, and ideal for use with regulated compressed air or Accuspray™ turbine-supplied air. Spray guns are available with aluminum or composite bodies to deliver a range of fluids with limited internal buildup. Complete your Accuspray™ system with a complete selection of Accuspray™ attached and remote cup assemblies, hose assemblies, regulators, air caps and more.
More Accuspray™ Spray Solutions
(PDF, 6.7 Mb)