Creates patterned or printed metallic appearance for interior automotive trim parts
Fine relief creates slightly raised "touchable" texture that holds even after elongation
Film technology incorporates real metal for authentic look and feel
Excellent elongation properties – film wraps around components for additional protection
Dual Vacuum Thermoforming (DVT) application helps ensure consistency across complex shapes
Versatile color and gloss tuning for a variety of design objectives
Finish can be changed easily according to the trim levels to meet regional needs
Enables easy tuning of color and gloss for a wide variety of colors
Textures and colors can be combined to create a wide variety of finishes
Custom finishes are developed jointly between 3M and OEM design studios for specific models
3M™ Interior Trim Film - Relief Metal Graphical Series is designed to create textured or printed relief patterns on interior automotive trim and components. Films feature a 300% elongation property for maximum coverage and protection across parting lines. Films incorporate real metals, and are applied using DVT to help retain authentic design appearance and texture during the application process.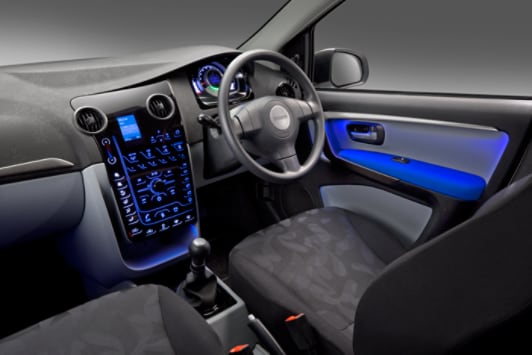 3M films help create an impactful inside-the-vehicle brand image
Distinctive Relief Patterns for OEM Automotive Interiors
3M™ Interior Trim Film - Relief Metal Graphical Series is a versatile and efficient method for creating truly distinctive automotive interiors. This film creates the appearance of custom-crafted metallic designs on interior automotive components. 3M achieves the authentic look of metal by including metal in the film formulation, without the added weight and expense. The textured or printed patterns are slightly raised to create a "touchable" feel to the component that adds dimension and depth to its appearance. In most cases, the film is supplied in custom finishes developed jointly between 3M and the individual OEM design studio. Automotive OEM designers can specify films in a wide variety of relief textures and patterns for a singular model and brand differentiation. The film can also be easily tuned for gloss and color to meet the most precise design specifications.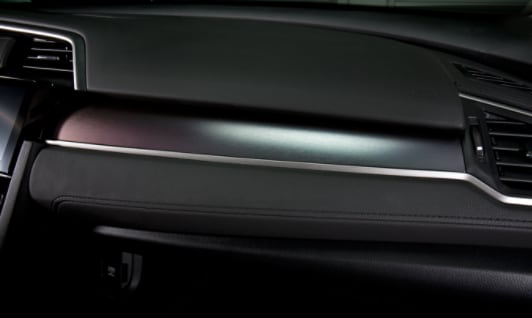 300% elongation property for maximum coverage and protection across parting lines Mouse over for larger image
This interior automotive film features excellent tensile strength and deep draw capabilities — it has an elongation property of 300% at forming temperatures. This makes it suitable for stretching tightly around components for conformability, coverage and protection even across parting lines without compromising relief textures. The film applies using dual vacuum thermoforming (DVT), which makes for consistent, precisely conformed texture even across complex geometries.