3M™ Air and Vapor Barrier 3015 is an air, moisture and water impermeable film membrane with an aggressive, high-tack pressure sensitive acrylic adhesive. It reduces air leakage and uncontrolled airflow from the building envelope, prevents moisture ingress and helps improve indoor air quality. It does not require the use of a primer on most construction surfaces.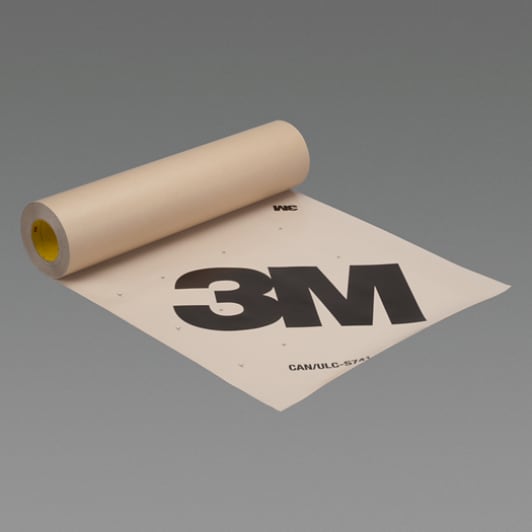 Self-seals around nails and staples to prevent moisture intrusion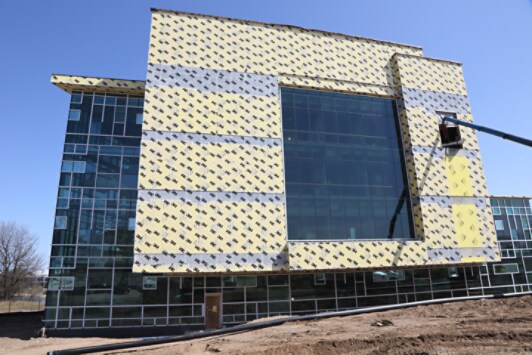 Elastomeric film self-seals to prevent moisture intrusion
Extended Temperature Range Increases Production
3M™ Air and Vapor Barrier 3015 is an innovative, translucent air and vapor barrier that uses non-asphaltic-based adhesives, which permits an extended application surface temperature range between 0°F (-18°C) to 150°F (66°C) and a service temperature range from -40°F (-40°C) to 240°F (116°C). These increased temperature ranges can reduce or eliminate cold-weather related delays, extending the construction season in cold climates and enabling year-round construction in moderate zones.
Recommended Applications
Air, vapor and water barrier for new and remedial commercial and multi- residential construction
Installed on exterior wall sheathing and behind exterior cladding
Transition building envelope from one substrate to another, or other openings and penetrations
Offers Excellent Adhesion without the Use of a Primer
This
proprietary barrier
(PDF, 1.56 Mb) does not require primer for most substrates, decreasing the number of products required on the job site and increasing worker productivity. It can withstand up to 12 months of direct UV exposure, giving it the integrity needed for long-running construction projects. The 10 mil engineered sheet membrane self-seals against nail fasteners and penetrations. It also conforms to contours for continuous bonded contact. 3M™ Air and Vapor Barrier 3015 meets the criteria to contribute to LEED credits.
Lighter Weight than Competitive Products for Easier Handling and Less Fatigue
3M™ Air and Vapor Barrier 3015
(PDF, 67.26 Kb) is approximately one-third the weight of competitive products. 3M™ Air and Vapor Barrier's lighter weight helps reduce worker strain during installation. Longer sections of material can be installed so productivity is increased. This vapor barrier can be applied horizontally or vertically with 2 inch overlapping seams. It is compatible with a variety of construction materials such as gypsum, plywood, OSB, cement board, concrete, CMU, mortar joints and 3M™ Sealant 525.
Translucent Film Allows Accurate Placement of Nail Fasteners
3M™ Air and Vapor Barrier 3015 translucent film enables accurate placement of nail fasteners and reduces error rates during fastener placement, increasing productivity and the quality of installation.
3M™ Air Barrier Systems Provide Energy Savings
Independent studies have demonstrated that an airtight building envelope system - when properly installed by 3M™ certified contractors - can decrease building air leaks. Heating and cooling loads can be reduced, allowing for smaller HVAC equipment. Energy operating costs can decrease by as much as 40%. The risk of mold and mildew can also decrease. Indoor air quality can improve and life cycle costs can be reduced.