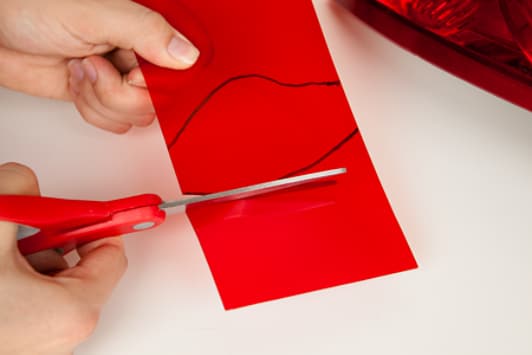 For quick and easy repairs, simply cut the film to size
Quick, Effective Lens Repair
Instead of paying for new auto lenses — and then either paying or taking the time to install them — you can fix them yourself quickly and easily with our 3M™ High Strength Lens Repair Film. This strong, flexible plastic film covers cracked or broken plastic in vehicle tail light lenses, signal light lenses and any other plastic lens on your vehicle. Durable film has a strong acrylic adhesive that bonds to plastics, whether flat or around curves, to form an airtight, waterproof seal. This film helps protect vehicle lamps and other electrical components from damage due to weather exposure. It also helps prevent further cracking or breakage to plastic lenses.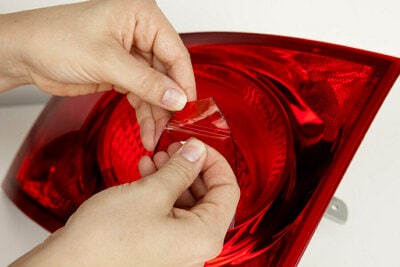 Peel backing off repair film and center over damaged area
Fast, Easy Repairs
Fixing cracked or broken taillight and turn signal lenses requires only basic vehicle care skill. These 3.75" x 7.75" sheets are designed to closely match the texture of common vehicle lenses, and are available in amber, red and clear colors to help you best match the color of your existing lens. Simply cut the desired film to size with a scissors, remove the adhesive liner, and apply it to the broken lens. The result is a quick, easy repair that improves the look of your vehicle.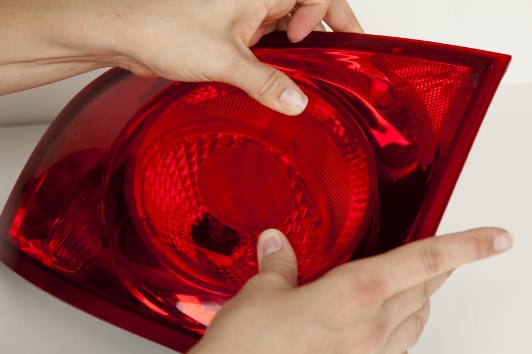 Press firmly and evenly across all areas of the film to ensure good adhesion
The Science of Vehicle Care from 3M
We developed this lens repair film to save you time and money, and to help you get the most enjoyment and value from the vehicles you own. 3M™ High Strength Lens Repair Film is another great example of how 3M applies science to life — and makes your life easier when it comes to making your vehicle look and perform its best.
Learn More about 3M™ High Strength Lens Repair Film Including Step-by-Step Application
(PDF, 208.8 Kb)
Flexible film repairs flat or curved lenses on truck and car taillights and signal lights
Weatherproof and airtight seal helps block rain, snow and dirt, protecting electrical components
Quick and easy-to-use adhesive film is less expensive than replacement lenses
Strong adhesive backing provides temporary repair
Available in red, clear and amber to match texture and color of existing lenses
3.75" x 7.75" sheets are ideal for a range of lens repairs