Multi-layer construction reduces total application and removal costs versus single layer protection
Optically transparent polyester film provides glass-like appearance
Durable top-coat layer prevents light scratches caused by installation, wiping, cleaning or abrasion
Optimized inter-layer adhesive provides firm, adequate adhesion yet fast and easy removal
Blocks more than 98% of UV light that can degrade plastics and fabrics
Film on glass and polycarbonate meets ASTM E162, ASTM E662, FMVSS-302 and Bombardier SMP 800-C requirements
Our 3M™ Sandblast Stencil Patch Kit 55 features a 20 to 25 lb case with various adhesive backed sandblast stencils to use as patch material. Each 5" wide roll is rubber backed and useful as both patching material on existing stencils or as perimeter protection during the sandblasting process.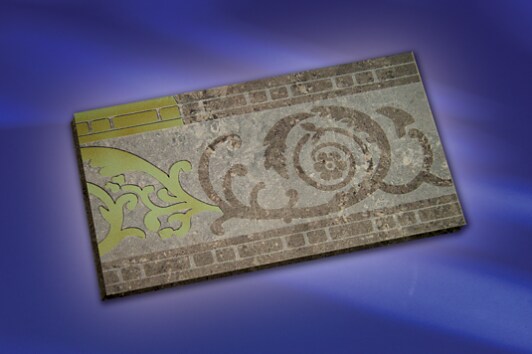 Clean and visible for easy and precise picking and weeding
When repair of your sandblasting stencil is required, the 3M™ Sandblast Stencil Patch Kit 55 is the recommended solution. Packed with 20 to 25 lbs of various adhesive backed sandblast stencil, this made-to-order case will keep you supplied with 5" wide rolls to use for patching existing stencils or as edge protection when sandblasting.
Recommended Application
Useful as patch material during the sandblasting process
Helps protect granite, marble, concrete, wood and other stone surfaces during blasting operations
Small lettering, media blasting, edge and surface protection
Intricate designs
Protect the perimeter of unprotected stone surfaces from potential damage caused during the sandblasting process
Helpful Tips for Sandblasting Success
The stone surface should be clean, dry and at a room temperature of 50° to 85°F (10° to 29°C) before applying the filler. Brush the well mixed filler evenly onto the stone surface. Let dry in a well ventilated area until the "gloss" on the surface has disappeared. Then apply the stencil according to directions. After blasting, remove the stencil as soon as possible. If any cleanup is necessary, use stencil scraps or masking tape to pull leftover filler from the stone. Use 3M™ Sandblast Filler #2 to help increase adhesion and to hold the stencil to polished stone surfaces. Use 3M™ Sandblast Filler #3 for rough and irregular surfaces.
Learn more about 3M™ Sandblast Stencil Products
(PDF, 928.89 Kb)
Smart Solutions through Science and Innovation
The 3M Industrial Adhesives and Tapes Division is changing the way companies around the world mask, protect, splice, color code and stop moisture. These technologies help customers deliver competitive products to the market with speed and efficiency. The 3M™ Sandblast Stencil Patch Kit 55 is just one example of how 3M is bringing better ideas to the surface through science and innovation.
Learn more about 3M™ Sandblast Stencil Products for tough masking applications
(PDF, 4.65 Mb)