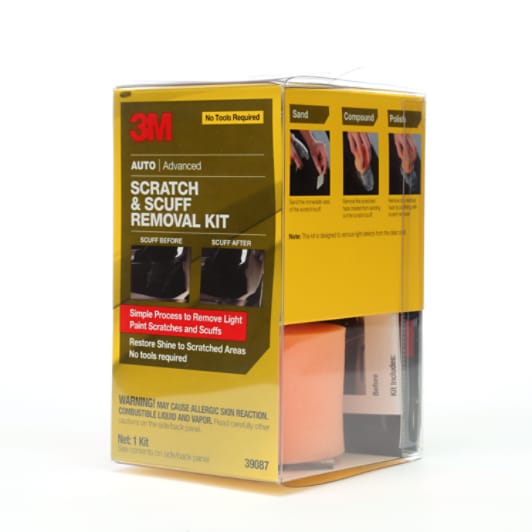 Restores shine and gloss to lightly scratched and scuffed painted areas of your vehicle
Restore the Shine Without the Shop Time
Instead of spending money on expensive body work, this 3M™ Scratch & Scuff Removal Kit lets you restore the smooth shine to your vehicle yourself — quickly, easily and without tools. The kit includes:
Fine 3000 grit abrasive square, ideal for removing scratches without damaging clear coat
Foam applicator pad
1 packet of 3M™ Rubbing Compound
1 packet of 3M™ Scratch Remover
Complete directions for use
In just a few simple steps, this kit lets you remove light scratches and scuffs that can make your vehicle look older and lessen its value. Use the extremely fine 3000 grit abrasive square with or without water to remove the scratches and scuffs. It features our aluminum oxide abrasive that cuts fast and lasts a long time — with just a light rub, the square nearly eliminates light scuffs and scratches and creates a matte finish in the vehicle clear coat. Next, apply and wipe off the Rubbing Compound and Scratch Remover. This restores the shine and gloss as closely as possible to your vehicle's original painted surface.
Complete directions are included. Use the 3M™ Scratch & Scuff Removal Kit to remove light marks that occur during everyday driving: fingernail scratches, light scuffs from contact with objects, brush marks from car washes and more.
Better Science in Auto Care from 3M
This simple, effective kit for scratch and scuff removal is another way that 3M applies solid science to recapture the excitement and value of your vehicles. 3M has long been known for our abrasive technologies. This kit brings decades of scientific development right in your hands to help you keep your vehicles looking their best while saving you time and money.
Learn About 3M Scratch Removal Products
(PDF, 339.2 Kb)
Restores shine and gloss to lightly scratched and scuffed painted areas of your vehicle
Features 3M abrasives and application pads
Fast and easy – no tools required
Saves money on expensive body work
Safe for use on any standard vehicle clear coat