2-tier rolling cart makes handling rolls of masking paper easier
Accommodates rolls of masking paper up to 18" wide
Use included tape dispenser to dispense pre-taped masking paper
Large, deep storage trays hold additional masking tools and supplies
Large handle and wheels make the cart easy to maneuver through the shop
Note: Paper and tape are not included with masking cart
Scotch® Cart Masker helps automotive body technicians transport needed masking supplies and dispense masking paper up to 18 inches. Our cart features two levels of masking paper dispensers and large, deep storage trays on the top and bottom.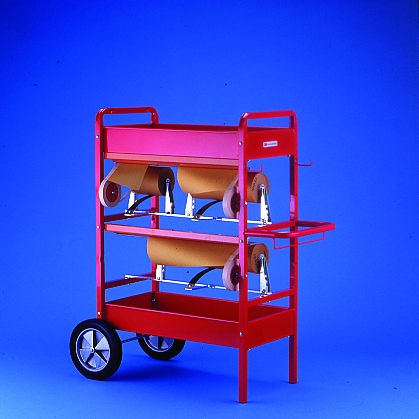 Mobile unit can easily be moved from job to job for greater versatility
A Cart Built for Convenience
Our Scotch® Cart Masker makes the job of handling rolls of masking paper an easier task. Simply unroll the length of masking paper you need, rest it against the included knife bracket and tear to size on the serrated edge. Dispense paper alone, or use included tape dispenser to attach masking tape to dispense pre-taped masking paper. The cart has two levels for holding rolls of masking paper plus ample shelf space for keeping other tools and supplies. A built-in storage rack for spray guns and two hooks for masking tape provide additional convenience.
Keep Supplies Clean
By keeping the roll of masking paper off the floor or countertops, it is less likely to be contaminated by dust and dirt. Cleaner sheets of masking paper save you time and trouble while masking your vehicle.
Make Masking Supplies Mobile
Our cart makes it easy for you to move masking supplies between automotive painting jobs in the shop. The cart has a narrow width so you can move it between tight spaces. A large handle and 8-inch wheels make it easy to steer and maneuver. The cart makes it easy for multiple automotive technicians to share supplies. When not needed, the cart serves as the perfect storage unit that you can roll to a supplies room.
Note:
Masking paper and supplies shown with cart are not included, but sold separately.