High performance adhesive intended to bond gaskets
Adheres to nitrile rubber (BUNA), neoprene, SBR, butyl, leather, vinyl and various rubbers
Excellent fuel, oil and water resistance
Offers resistance to heat and moisture, performing in temperatures up to 300°F/148°C
3M™ Nitrile Plastic Adhesive 826 is a versatile, solvent based, high performance adhesive with medium viscosity. It offers high immediate strength, is highly resistant to heat and oil, and is commonly used for bonding most rubber and gasket materials.
Gasket bonding
Bonding fuel lines, fuel tanks and panels exposed to oil
Attaching rubber to various substrates (should not be applied to EPDM or TPO)
Patching rubber
Leather repair
General maintenance and repair applications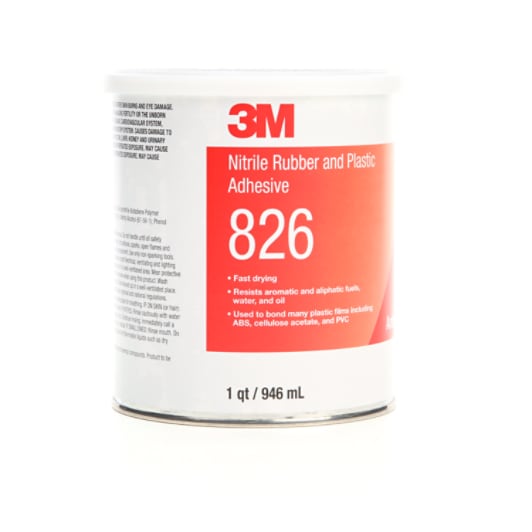 This tough adhesive is capable of heavy duty jobs, including tank bonding
A High Performance Adhesive for Harsh Environments
With the 15-minute bond time of 3M™ Nitrile Plastic Adhesive 826, heavy duty jobs can be called done in less time. Its medium viscosity allows for easy handling in brush or flow applications in even the most extreme conditions.
Applying Your Adhesive
Whether it is being brushed or rolled on, the application of your 3M™ Adhesive is a straightforward process. Start by carefully applying your adhesive to your surface until you've formed a uniform coat. The application of one coat should prove sufficient for most surfaces. Some substrates, including porous materials, may require an additional coat. In order to apply additional adhesive, simply wait until the existing adhesive becomes dry to the touch, and then proceed with the application of the additional coat.
Click here for more information on 3M Industrial Adhesives
(PDF, 20.14 Mb)