Cures quickly to seal hydraulic and pneumatic pipes and fittings
Prevents leaks and corrosion in pipes by strengthening bonds between pipe threads
Features temperature resistance to 300ºF (149ºC)
Designed to resist pressure and vibration, providing long-term durability
3M™ Scotch-Weld™ General Purpose Pipe Sealant PS77 is a fluorescent yellow, fast-curing, high viscosity pipe sealant. Offering temperature resistance up to 300ºF (149ºC), this sealant provides a strong, tough seal. This pipe sealant is formulated to resist pressure and vibration for long-lasting durability.
Pressure vessels
Air compressors
Hydraulic and pneumatic systems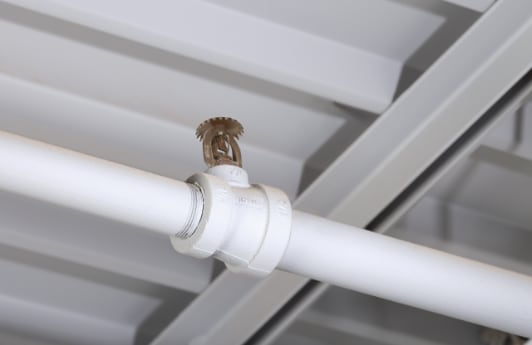 Prevents leaks and corrosion in pipes
Features of a Rapid Seal
3M™ Scotch-Weld™ General Purpose Pipe
Sealant PS77
(PDF, 112.2 Kb) provides an almost instant low-pressure seal. A high-pressure seal results when the bond is fully cured. It seals quickly to stop leaks when applied to threads or compression fittings of most metal and certain plastic pipes, without shredding, evaporation or shrinkage. In addition, this sealant prevents galling as well as helps eliminate the waste and mess of leaking hydraulic fluids, oil, fuel and lubricants.
Formulated for Speed and Strength
Offering a rapid seal that withstands heat, pressure and vibration, 3M™ Scotch-Weld™ General Purpose Pipe Sealant PS77 is an excellent solution for fast results. Resilient and durable, this pipe sealant is formulated to produce the strong seal necessary for a wide variety of demanding applications.
Understanding Anaerobic Adhesives
Anaerobic adhesives are uniquely formulated to cure in the absence of oxygen. The term "anaerobic" means "living without air" and when the oxygen is excluded, a chemical chain reaction begins that causes the adhesive to polymerize. Contact with metal speeds the polymerization process and rapidly accelerates the curing process, forming tough cross-linked plastic that provides aggressive adhesion with effective shear strength.
More commonly referred to as threadlockers, pipe sealants, retaining compounds, and gasket makers, these adhesives are often used to enhance the seal, or holding force, in the threads of joined fastener systems such as nut-and-bolt assemblies. A nut-and-bolt assembly may have as little as 15% metal-to-metal contact and even a small amount of anaerobic adhesive readily fills any air voids between the threads and then hardens to a thermoset plastic. These unique adhesives are easy-to-dispense, cure rapidly, and provide effective torque strength while resisting temperature and vibration and sealing out moisture and gasses to protect against corrosion. Anaerobic adhesives can decrease manufacturing costs, enhance equipment reliability, minimize aftermarket breakdown, and reduce warranty claims.
Click here for more information on 3M Structural Adhesives.
(PDF, 15.87 Mb)