Easy attachment minimizes set up and down times
Rugged construction provides reliability
Extension enhances consistent quality tape application
Allows for case forming and packing station
Our 3M-Matic™ T-table Attachment is a 6" x 44" T-table attachment for use with 3M-Matic™ Adjustable Case Sealers a80 and a80-3. When you add this durable extension you will increase the capability of a packing station and fold bottom flaps for various boxes, increasing productivity while reducing labor.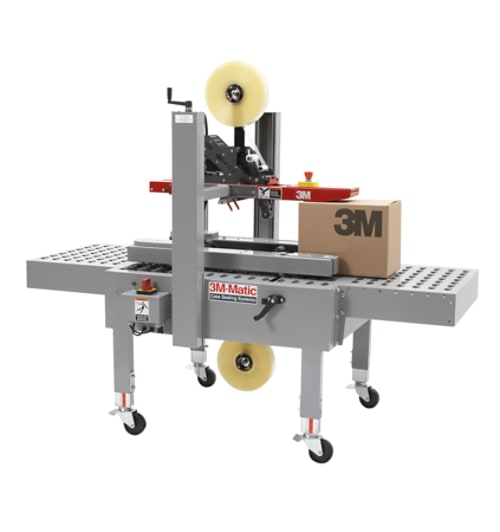 Works with 3M-Matic™ Adjustable Case Sealer a80 (shown) or a80-3
We offer a full line of case sealers that can improve productivity and reduce operating expenses at the end of your packaging line — the most expensive place in your plant for bottlenecks. With everything from semi-automatic adjustable systems, to fully-automatic random systems, our 3M-Matic™ case sealers are consistent and durable, require low maintenance and help your case sealing operations run reliably.
Each model features our low-impact 3M AccuGlide™ II Taping Head with its curvilinear track, which helps to securely and carefully seal lightweight corrugated cases with Scotch box sealing tape. 3M-Matic case sealers can also help reduce labor costs and decrease downtime because of the equipment's features and improved processes versus hand taping or stapling. In short, you can expect a more efficient, more productive operation when 3M is on the case.