Reclosable system is up to five times stronger in tensile strength than hook-and-loop fasteners
Snap-in-place installation replaces screws, nails, snaps and rivets
Black fastener is hidden when closed and provides clean, smooth appearance
Modified acrylic adhesive bonds well with many plastics, powder coated paints and medium to low surface energy materials
Type 250 stem density polyolefin fastener mates to Type 170, 250 or 400, increasing fastening options
Ideal for indoor and outdoor use to attach doors, flexible solar panels, headliners, access panels, signs and display components
The 3M™ Dual Lock™ Reclosable Fastener TB3870 has a modified acrylic pressure sensitive adhesive on the back of a black polypropylene reclosable fastener with 250 stems per square inch. This product can be used both indoors and outside in a variety of applications; and has a slim 0.24 inch engaged thickness and long service life.
Indoor/outdoor
Doors
Flexible solar panels
Headliners
Access panels
Signs
Display components
The fastener is backed with a modified acrylic pressure sensitive adhesive that bonds to many plastics and powder coated paints; as well as medium to low surface energy materials with little or no surface preparation.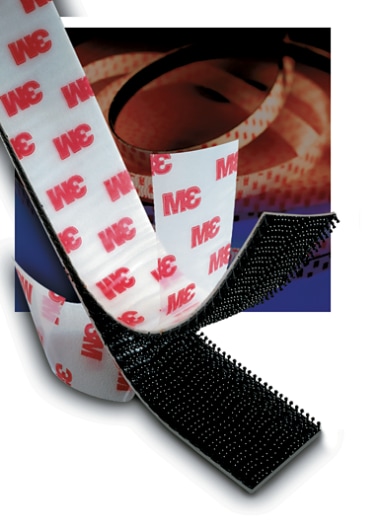 Strong, interlocking mushroom-shaped heads close with a snap to assure your design is securely fastened
Hear the Snap
"Snap!" It's the one word that best defines our extensive line of 3M™ Dual Lock™ products. Here's how it works: When two pieces of 3M Dual Lock Reclosable Fastener are pressed together, the stems flex and the mushroom heads slide past each other. After passing the mushroom heads on the opposing mating piece, a stem snaps up into its original position, interlocking with the opposing heads. Listen for the audible snap to signal that the fastener is engaged. The attachment formed may be as effective as screws or rivets, but will peel apart for repositioning. 3M Dual Lock Reclosable Fasteners are used extensively in transportation, electronics, business equipment, machinery, medical, and sign and display markets.
Lose the Screws
The bond is strong but can easily be detached; just pull apart to disengage and reattach as needed. This means that our product gives you a strong, hidden bond with the convenience of multiple openings and closings so you can lose the screws, rivets, hooks, bolts, zippers and other unsightly attachment methods. In short — our product is an aesthetically pleasing fastener that doesn't sacrifice attachment strength; in fact, the 3M™ Dual Lock™ Reclosable Fastener TB3870 is about five times stronger in tensile strength than 3M™ Hook and Loop fasteners used in comparable applications. In many cases, this attachment method also saves the user money with less material used. Additionally, there's no need to drill holes that might weaken the part or substrate, and no tools required to assemble and remove the part.
You expect more options to secure, attach and connect surfaces. 3M Dual Lock Reclosable Fasteners offer quick installation and high-strength attachment, yet can be opened as easily as zippers. That functional flexibility, as well as superior aesthetics, reduced weight, and savings in labor and installation costs, make our innovative fasteners a popular and effective solution.